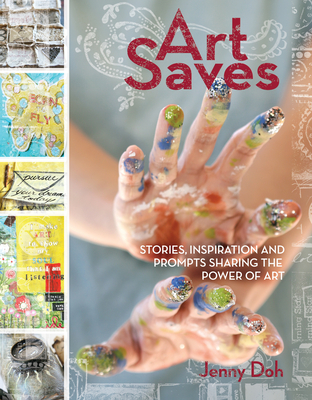 Art Saves (Paperback)
Stories, Inspiration and Prompts Sharing the Power of Art
North Light Books, 9781440309069, 144pp.
Publication Date: July 4, 2011
* Individual store prices may vary.
Description
Discover it for yourself.
Inside Art Saves, experience the stories of 20 artists who found that artistic expression and the artistic process is worth living for. Whether you are a calligraphy/graffiti artist like Lisa Engelbrecht, a metal artist like Michael DeMeng, or digital collage artist like Susan Tuttle, art has a way of giving you beauty, meaning, spiritual richness, community... even salvation.
The stories in this book come from every medium, because the power of the creative process can be found everywhere.
Hear from:
Drew Emborsky, a crochet artist, provides comfort through his creations by donating his work to hospitals and shelters.
Rebecca Sower puts craft materials--and hope--into the hands of Haitian women through Haiti By Hand.
Marie French who, through art, creates personal miracles of healing.
Suzi Blu, who discovered the real, therapeutic effect of art-making, shows you many simple, effective ways you can give back.
INSIDE ART SAVES, YOU'LL ALSO FIND:
Mixed media techniques and projects. Throughout the book you'll find practical ideas to put you on the art-making path. Karen Michel shares instructions on creating prayer flags, Lynn Whipple shows you how to construct a permission plaque, Susannah Conway gives advice on revealing the soul of a place though inspired photography.
Inspired Lessons. Each artist lists the lessons they have learned about living life artfully.
"When the Going Gets Tough..." Sidebars suggest ways you can remain strong, even when things get challenging. Hear how different artists deal with difficulty head-on.
"In the artist's own words..." Advice and wisdom shared directly from each artist to you. The act of art-making is an act of life. So thread a needle, lift a paintbrush, put pencil to paper, focus the camera--find salvation.
About the Author
As Editor-in-Chief of Somerset Studio and numerous art and crafting magazines from 2004 to 2009, Jenny Doh is considered an authority within the art and craft industry. Jenny's first book (co-authored with Jo Packman) is titled Where Women Create: Book of Inspiration (Lark Books). To connect the creative passion of the individual and to build an authentic community of like-minded souls that can inspire focused compassion to make a difference in the world, she recently launched CRESCENDOh.com.
or
Not Currently Available for Direct Purchase