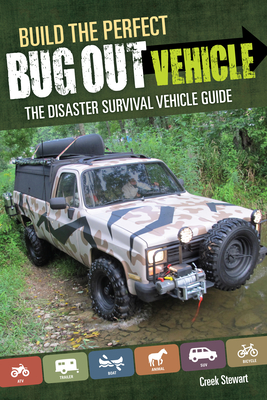 Build the Perfect Bug Out Vehicle (Paperback)
The Disaster Survival Vehicle Guide
Betterway Home, 9781440333088, 224pp.
Publication Date: July 21, 2014
* Individual store prices may vary.
Description
Outfit a Disaster-Escape Vehicle
If an unexpected disaster forces you to suddenly evacuate from your home, is your vehicle equipped to drive you to safety? It will be if you follow the advice in this book.
Build the Perfect Bug Out Vehicle shows you how to outfit any vehicle with equipment and survival gear that will help you quickly drive from ground zero to a safer location. Survival expert Creek Stewart, author of the best-selling Build the Perfect Bug Out Bag, details from start to finish everything you need to equip an everyday vehicle for a drive through and away from disaster-stricken areas--from survival supplies and storage solutions to off-road travel, communication, navigation, and security considerations.
You'll find:
Practical and affordable Bug Out Vehicle equipment and principles that can be applied to any vehicle, even your everyday family car
Photos and explanations of every item you need for your vehicle
Resource lists to help you find and purchase gear
You'll also find special considerations for bugging out using alternative modes of transportation including bicycles, boats, ATVS, motorcycles, horses, carts, aircraft and more.
A disaster could strike your home at any moment. Don't be trapped in the devastating aftermath. Quickly transport yourself and your family to safety by building a Bug Out Vehicle today
About the Author
Creek Stewart is the author of Build the Perfect Bug Out Bag, The Unofficial Hunger Games Wilderness Survival Guide, Build the Perfect Bug Out Vehicle, and Build the Perfect Bug Out Survival Skills. Creek regularly publishes articles relating to disaster preparedness in numerous magazines. He owns and is Lead Instructor at Willow Haven Outdoor--a survival, preparedness and bushcraft school located in central Indiana. Creek specializes in disaster preparedness and has consulted with individuals, corporations, non-profits and government agencies all over the United States about a myriad of preparedness-related subjects, projects and initiatives. He has been featured on Fox & Friends and is host of Fat Guys in the Woods on the Weather Channel.