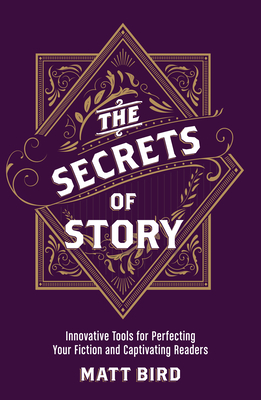 The Secrets of Story
Innovative Tools for Perfecting Your Fiction and Captivating Readers
Paperback

* Individual store prices may vary.
Other Editions of This Title:
Digital Audiobook (10/31/2016)
Compact Disc (11/1/2016)
MP3 CD (11/1/2016)
Description
You've just boarded a plane. You've loaded your phone with your favorite podcasts, but before you can pop in your earbuds, disaster strikes: The guy in the next seat starts telling you all about something crazy that happened to him--in great detail. This is the unwelcome storyteller, trying to convince a reluctant audience to care about his story.

We all hate that guy, right? But when you tell a story (any kind of story: a novel, a memoir, a screenplay, a stage play, a comic, or even a cover letter), you become the unwelcome storyteller.

So how can you write a story that audiences will embrace? The answer is simple: Remember what it feels like to be that jaded audience. Tell the story that would win you over, even if you didn't want to hear it.

The Secrets of Story provides comprehensive, audience-focused strategies for becoming a master storyteller. Armed with the Ultimate Story Checklist, you can improve every aspect of your fiction writing with incisive questions like these:  

   • Concept: Is the one-sentence description of your story uniquely appealing?
   • Character: Can your audience identify with your hero?
   • Structure and Plot: Is your story ruled by human nature?
   • Scene Work: Does each scene advance the plot and reveal character through emotional reactions?
   • Dialogue: Is your characters' dialogue infused with distinct personality traits and speech patterns based on their lives and backgrounds?
   • Tone: Are you subtly setting, resetting, and upsetting expectations?
   • Theme: Are you using multiple ironies throughout the story to create meaning?
To succeed in the world of fiction and film, you have to work on every aspect of your craft and satisfy your audience. Do both--and so much more--with The Secrets of Story.
Praise For The Secrets of Story: Innovative Tools for Perfecting Your Fiction and Captivating Readers…
"Matt Bird is a certifiable writing-craft genius." --Cheryl Klein, Senior Editor at Arthur A. Levine Books

"What makes this book valuable is how practical Bird is with his advice--every chapter is full of craft tricks and little insights that help take a moment from 'good enough' to 'great!' Consider his 'one-touch rule,' which can instantly add focus and shape to even the smallest scene. This book is full of real tools for real storytellers." --Jonathan Auxier, author of The Night Gardener

"The Ultimate Story Checklist is the clearest road map I've seen for helping writers get to what makes a compelling story. I've been sharing Matthew's guide with writers for years." --Andrew Harwell, author of The Spider Ring

"Matt Bird has cracked the code on how satisfying stories work. His insights will sharpen your plots, freshen your characters, and liberate your imagination. I always come away from reading Matt Bird feeling inspired and invigorated." --James Kennedy, author of The Order of Odd Fish

"Bird's advice raises the bar and encourages 'writing greatness.' It's rare to find such clear and insightful tips about working at the most advanced end of the craft." --Elizabeth Fama, author of Monstrous Beauty

"After I followed Matt Bird's writing advice, I received an offer of representation from an agent who called my manuscript 'masterfully structured.' It's a testament to how helpful Bird's advice has been--I've learned more from him than from any other book about writing, and certainly more than from taking any writing class." --Parker Peevyhouse, author of Where Futures End

"Matt Bird's blog is possibly my favorite resource on storytelling, maybe even more than Robert McKee's Story. It's really insightful on story structure--detailed without being too rigid, and with a keen appreciation for both big blockbusters and smaller stories." --Emily Horner, author of A Love Story Starring My Dead Best Friend
Writer's Digest Books, 9781440348235, 368pp.
Publication Date: November 1, 2016
About the Author
Matt Bird has an MFA in screenwriting from Columbia University. He developed these ideas on his popular blog, Cockeyed Caravan. He works as a screenwriter in Chicago, where he and his wife, Betsy, are raising two delightful little kids.