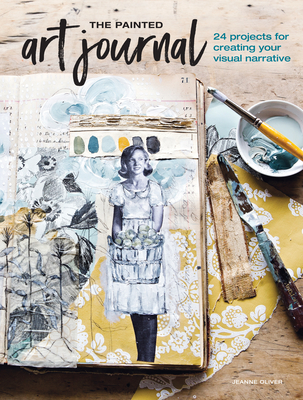 The Painted Art Journal
24 Projects for Creating Your Visual Narrative
Paperback

* Individual store prices may vary.
Description
Take a mixed-media journey to the very heart of your creativity!

The Painted Art Journal opens doors to your most personal and authentic art yet. Tell your story as only you can, through a series of guided projects that culminate in a beautiful, autobiographical art journal worthy of passing along to future generations. Along the way, you will hone your own unique style of artful storytelling, filled with the images, colors and symbols that resonate most powerfully with you.

Twenty-four inventive, step-by-step prompts help you to:

   • Set the scene for making art--from establishing rituals that unlock creativity to curating a personal storyboard.
   • Draw inspiration from photos, typography, sketches, childhood memories, quotes and more.
   • Shape your story with timelines, gathered-word poetry and simple approaches to portraits.
   • Express yourself through an exciting range of mixed-media techniques, using everything from pen and ink, markers and watercolor to image transfers, printmaking with linocuts, acrylic and collage.

A book unlike any other, The Painted Art Journal is all about digging deeper, honoring your life, and coming away with a truer understanding of yourself and your art. 

"Each of our stories is so different, lovely and broken in its own way." --Jeanne Oliver
North Light Books, 9781440351785, 160pp.
Publication Date: July 3, 2018
About the Author
Jeanne Oliver grew up in rural Illinois and now resides in Castle Rock, Colorado. She is inspired by our personal stories, travel and nature.

Jeanne uses art to tell her current stories and those of growing up among gravel roads, cornfields and early life surrounded by open spaces. Through mark making, layers and mixed media, she hopes to convey that we all have a story to tell. Connecting with women and sharing that each of us has been creatively made is one of her passions. Visit her website at jeanneoliver.com.