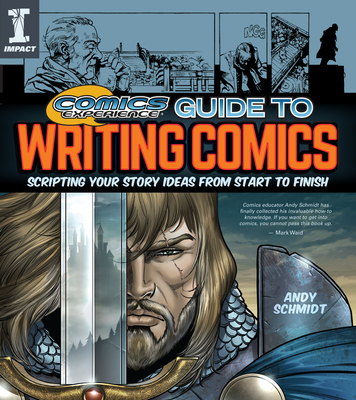 Comics Experience Guide to Writing Comics
Scripting Your Story Ideas from Start to Finish
Paperback

* Individual store prices may vary.
Description
Unlock the secrets to comic-writing success!

"You have a story tell. It's your story... These are ways to help you get your story out, to help you become the writer inside of yourself."

This is the book on writing you've been waiting for, a nuts-and-bolts guide to writing fiction for comics. While it is true that there is no set way to write a comic book script, no set format, no industry standard, it is equally true that someone learning to write comics needs structure. That's where Comics Experience© Guide to Writing Comics can help. Comics veteran Andy Schmidt offers sage advice and practical instruction for everything from writing realistic dialogue to communicating your ideas to other comics professionals. Inside you'll find:

   • 23 exercises to help you put fundamental writing principles into practice
   • Sample script formats, page-by-page outlines, scene-by-scene outlines and short pitches that show you exactly how to create these important components of the writing process
   • Diagrams and pages from published comics to illustrate key concepts
   • Tips on professional development, networking and navigating the comics industry
These pages include all the tools you need to write great comics, but where do you begin? Begin with yourself. You have to know--not believe--know: You can do this, and this guide will help. Now, begin with Chapter 1...
Praise For Comics Experience Guide to Writing Comics: Scripting Your Story Ideas from Start to Finish…
"For anyone who ever loved my work on Madrox and his X-Factor, you should knwo it wouldn't have existed without my editor, Andy Schmidt...and now that he has taken the time to produce a book on comic writing, you owe it to yourself to grab it up immediately to help your own endeavors. He sees possibilities that others can't even grasp, and you owe it to yourself to jump on board with his work." ~Peter David

"Comics educator Andy Schmidt has finally collected his invaluable how-to knowledge. If you want to get into comics, you cannot pass this book up." ~Mark Waid

"Invaluable insight and practical application from one of the best darn comics educators in the business!" ~Fred Van Lente
IMPACT Books, 9781440351846, 176pp.
Publication Date: June 19, 2018