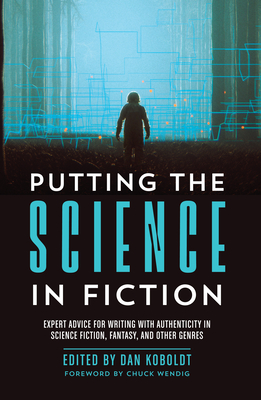 Putting the Science in Fiction
Expert Advice for Writing with Authenticity in Science Fiction, Fantasy, & Other Genres
Paperback

* Individual store prices may vary.
Description
Science and technology have starring roles in a wide range of genres--science fiction, fantasy, thriller, mystery, and more. Unfortunately, many depictions of technical subjects in literature, film, and television are pure fiction. A basic understanding of biology, physics, engineering, and medicine will help you create more realistic stories that satisfy discerning readers.

This book brings together scientists, physicians, engineers, and other experts to help you:

   • Understand the basic principles of science, technology, and medicine that are frequently featured in fiction.
   • Avoid common pitfalls and misconceptions to ensure technical accuracy.
   • Write realistic and compelling scientific elements that will captivate readers.
   • Brainstorm and develop new science- and technology-based story ideas.
Whether writing about mutant monsters, rogue viruses, giant spaceships, or even murders and espionage, Putting the Science in Fiction will have something to help every writer craft better fiction.

Putting the Science in Fiction collects articles from "Science in Sci-fi, Fact in Fantasy," Dan Koboldt's popular blog series for authors and fans of speculative fiction (dankoboldt.com/science-in-scifi). Each article discusses an element of sci-fi or fantasy with an expert in that field. Scientists, engineers, medical professionals, and others share their insights in order to debunk the myths, correct the misconceptions, and offer advice on getting the details right.
Praise For Putting the Science in Fiction: Expert Advice for Writing with Authenticity in Science Fiction, Fantasy, & Other Genres…
"This book is a collection of blog posts by Dan Koboldt, who has been feeding writers excellent scientific information for a long time... Every writer should have a copy on his or her bookshelf." --Seattle Book Review, 5-star review

"Koboldt has gathered experts in medicine, genetics, neurology, zoology, technology, and astronomy to correct the inaccurate depictions of science that often occur in fiction...The entries are brief, knowledgeable, and highly entertaining, like hearing an exasperated friend rant about his or her area of expertise." --Booklist

"This book is a must-have for authors and aspiring authors." --Sequential Tart, 9/10 rating

"This book is a natural choice for writers of medical dramas and science fiction, but even writers of historical fiction will find important advice within its pages. Putting the Science in Fiction is definitely a resource every writer should have in their toolbox." --Girl Who Reads

"This is a really good book with essays penned by an eclectic range of authors on a broad range of subjects...as a resource I will be referring to it for a long time to come." --Crime Novel Reader

"The basic information is here as jumping off points, some delve into much more detail, and many offer up other resources to dig into the topics more deeply...a useful, well-written resource. And for those with less familiarity with some of the topics, that would be only more true. Recommended." --Fantasy Literature

"This book is a brilliant resource, both for writers and for those with a more general interest in science. The authors are hugely knowledgeable and enthusiastic about their subjects, and there's so much in here to teach you and provide inspiration for writing and further learning." --Books at the End of the Alphabet
Writer's Digest Books, 9781440353383, 272pp.
Publication Date: October 16, 2018
or
Not Currently Available for Direct Purchase