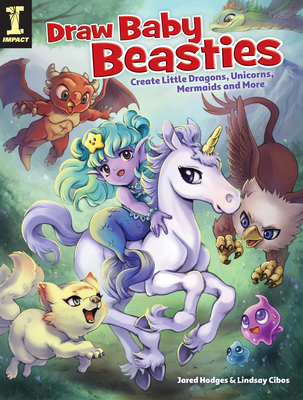 Draw Baby Beasties
Create Little Dragons, Unicorns, Mermaids and More
Paperback

* Individual store prices may vary.
Description
A life-and-limb-saving guide for artists!

For centuries, brave artists have sought the elusive offspring of legend's most infamous beasts. Many have met ugly ends whiles scaling cliffs for a glimpse of griffon hatchlings, venturing into dark forests in pursuit of moody little Minotaurs or voyaging to sea where newborn krakens toss boats like bath toys. Here at long last is a more practical, less perilous alternative. Draw Baby Beasties offers a rare, intimate and danger-free view into the formative years of dragons, trolls, harpies and other fantastical creatures.

Use the easy-to-follow drawing instructions to start assembling simple shapes, then add shading, texture and color to capture magical unicorn foals, flaming phoenix chicks, gruesome gargoyle pups and other fantastical youth of land, sky and sea. Even beginners can achieve happy results quickly, without risk to life or limb.

Complete with fascinating insights on habits, habitats and favorite pastimes, Draw Baby Beasties provides groundbreaking, possibly life-saving instruction for artists who dare take on these awesome and adorable adolescents.

Everything you need to draw legendary little ones!

   • Step-by-step demonstrations of 27 baby fantasy creatures
   • Tips for depicting true-to-life anatomy, poses and expressions
   • Narrative profiles of each species
IMPACT Books, 9781440354199, 128pp.
Publication Date: June 18, 2019
About the Author
Lindsay Cibos and Jared Hodges are the authors of IMPACT's Draw Furries and Draw More Furries. They are the creators of the graphic novel series Peach Fuzz (Tokyopop), which has been published internationally and syndicated in newspapers.