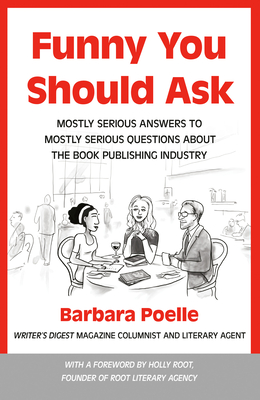 Funny You Should Ask
Mostly Serious Answers to Mostly Serious Questions About the Book Publishing Industry
Paperback

* Individual store prices may vary.
Description
There is a certain perception from the outside that the publishing industry is a near insurmountable fortress, with gatekeepers and naysayers manning the turrets looking for any way to fire a flaming arrow at the dreams of an aspiring writer. Funny You Should Ask, based on the popular Writer's Digest column of the same name, assists to deconstruct, inform, and illuminate the path to publication and beyond, all while dispelling the rumor that those in the industry are better than thou.

And even though each writer's publishing journey is like a game of PLINKO--you can drop the chip in the same slot every time and get a different result--there are still common constructs and confusions that can be shared and explored together in order to help inform all writers. From understanding the nuts and bolts of a query letter, to learning how to process the soul-searing envy of watching someone else's career flourish, to how to talk to your editor, veteran literary agent Barbara Poelle covers the approach and execution of the common and uncommon bumps along the traditional publishing path.

Includes

   • More than 100 questions answered including expanded answers to topics that didn't get the full treatment in a column
   • Writing exercises, submission checklists, and publishing BINGO for every publishing milestone
Praise For Funny You Should Ask: Mostly Serious Answers to Mostly Serious Questions About the Book Publishing Industry…
"Impressively informative, exceptionally well organized and presented, and an unreservedly recommended 'must read' for every aspiring author with an ambition to be published, Funny You Should Ask: Serious Questions About the Book Publishing Industry will also be of immense value for already published authors wanting to keep up with the changes and evolution of the publishing industry." --Midwest Book Review 
Writer's Digest Books, 9781440355073, 224pp.
Publication Date: January 14, 2020
About the Author
Barbara Poelle is a vice president at the Irene Goodman Literary Agency, where she has served as an agent since 2007. A sought-after expert for publishing industry seminars and conferences, she also pens the popular FUNNY YOU SHOULD ASK column at Writer's Digest online.