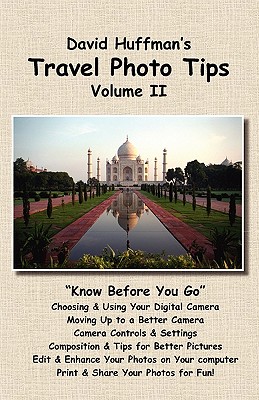 David Huffman's Travel Photo Tips, Volume II (Paperback)
Custom Volume
Createspace Independent Publishing Platform, 9781440499517, 102pp.
Publication Date: June 25, 2009
* Individual store prices may vary.
Description
Take better travel photos with your camera. Choose and use a new camera, from simple to professional models. How to use the controls and settings for better photos. Tips for traveling with cameras and taking interesting pictures. Using your computer to correct, enhance and share your pictures. This new volume II expands on the first volume with help choosing and using digital single lens reflex cameras, lenses, flash attachments and computer software. This is a "must read" for anyone interested in better photos with their camera.
About the Author
David Huffman is a featured lecturer on cruise ships and workshops. For more than 20 years, David has helped people take and make better pictures. During his 20-year career with Eastman Kodak, David was Director of Instruction and led product design and development teams in the US, Europe and Asia.