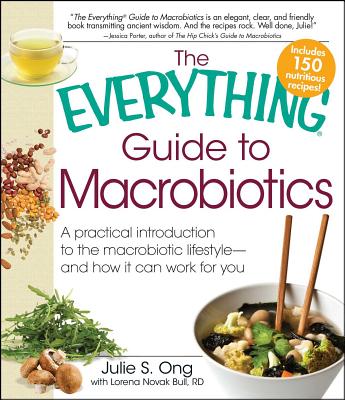 The Everything Guide to Macrobiotics (Paperback)
A practical introduction to the macrobiotic lifestyle - and how it can work for you (Everything®)
Everything, 9781440503719, 304pp.
Publication Date: July 18, 2010
* Individual store prices may vary.
Description
Heal yourself naturally with balanced and nourishing foods.
Lose weight and boost energy levels
Prevent and treat disease
Enhance psychological health
You can gain all this and more by following a macrobiotic diet! Macrobiotics is based on the benefits of eating seasonal, locally grown, and energetically balanced foods. In this guide, you'll discover how to adapt this lifestyle to fit your own needs. Create 150 delectable recipes to achieve inner and outer healing, including:
Forbidden Rice with Edamame and Orange Zest
Mochi Waffles with Berry Lemon Sauce
Kale, Green Beans, and Carrots with Roasted Pumpkin Seeds
Garbanzo Beans in Mushroom Gravy
Roasted Squash and Sweet Potato Sauce
Poached Pears in Apple Cider
This guide also features tips on incorporating changes into your lifestyle that reduce stress while enhancing balance and harmony. The benefits of a macrobiotic lifestyle are only a few delicious recipes away!
About the Author
Julie S. Ong completed all four levels at the Kushi Institute, the world-renowned leader in macrobiotics, to become a macrobiotic instructor and counselor. She subsequently became a natural and therapeutic chef, and was a head chef at Manzanita Restaurant in Oakland, California, specializing in organic vegan macrobiotic cuisine. She completed her natural chef certification from Bauman College and has written for Macrobiotics Todaymagazine. She offers complete macrobiotic consultations for a wide range ofhealth conditions via her website, www.everythingmacrobiotics.com. Lorena Novak Bull, RD is a graduate of the nutrition and dietetics program at Loma Linda University. She has spent the last fourteen years working as a registered dietitian in public health and has more than twenty-five years of experience with vegetarian, vegan, and raw vegan lifestyles. Lorena offers client-centered nutrition consultations and enjoys presenting lectures and raw food demonstrations. She is a member of the American Dietetic Association and a past president of the Inland District Dietetic Association.
or
Not Currently Available for Direct Purchase