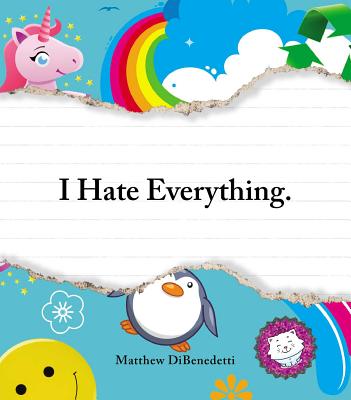 I Hate Everything (Paperback)
Adams Media, 9781440506383, 400pp.
Publication Date: October 18, 2010
Other Editions of This Title:
Paperback (1/18/2012)
Paperback (10/15/2011)
* Individual store prices may vary.
Description
I hate that I'm going bald.
I hate that I still make fun of bald people.
I hate karma.

Amateur haters, step aside. Time to learn what it really means to be miserable. Because this guy hates everything. From hating the little irks that happen now and then (like the water that squirts out of the mustard bottle) to hating the unfortunate realities of today's world (like that superheroes don't exist...but villains do), Matthew DiBenedetti tells readers how he really feels.

With such a variety of miserable musings, you'll find something to laugh at—and someone to loathe with—in this book.
About the Author
Matthew DiBenedetti is an equal-opportunity hater. After working in the advertising industry for over twenty years, how could he not be? Matthew has worked on corporate marketing campaigns for everything from major sporting good brands and financial institutions to bookstore chains and fine china. He is also the author of I Hate Everything. He lives and loathes in New Jersey.