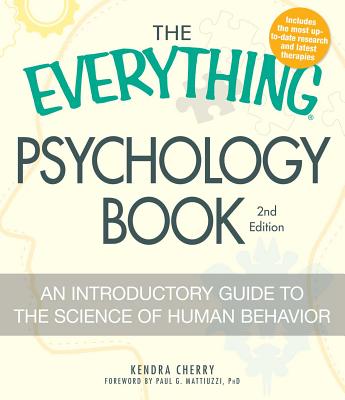 The Everything Psychology Book (Paperback)
Explore the Human Psyche and Understand Why We Do the Things We Do (Everything (Reference))
Everything, 9781440506918, 304pp.
Publication Date: November 16, 2010
* Individual store prices may vary.
Description
What do dreams mean? How important is childhood, really? Why do we forget this--and remember that?
There's nothing more fascinating--or frightening--than the ins and outs of the human mind. But understanding the complex links between our brains, our emotions, and our behavior can be challenging. This book unravels even the most arcane mysteries of psychology, including:
The human drive for food, sex, and other desires
What happens when thinking and emotions go awry
Why we fall in love with one person and not another
How we can develop a strong sense of self
When traumatic events can change who we are
Scientific information is coupled with real-life examples to help you grasp the basic principles and theories of psychology. You'll be able to achieve a better understanding of yourself--and everyone else around you, too.
About the Author
Kendra Cherry is a writer specializing in psychology, child development, and education. She writes about personality, social behavior, and child therapy for several online magazines, and she is the About.com Guide to Psychology. Cherry previously worked with children suffering from emotional disturbances as a psychosocial rehabilitation specialist. She has a Bachelor's of Science in Psychology and a Master of Science in Education. About the Foreword WriterPaul G. Mattiuzzi, PhD has been a psychologist for over 25 years. He has applied his training to organizational behavior, career motivation, psychotherapy, and health psychology, but his usual work involves the study of criminal behavior and forensic psychology. Dr. Mattiuzzi often lectures and teaches about psychology, and he writes about psychology and everyday experiences in his blog: everydaypsychology.com.