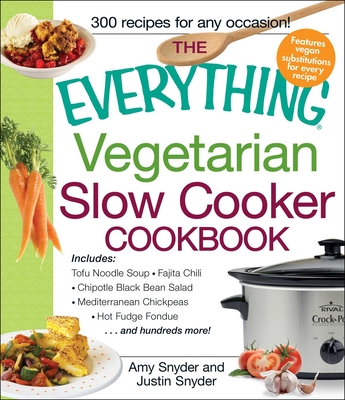 The Everything Vegetarian Slow Cooker Cookbook (Paperback)
Includes Tofu Noodle Soup, Fajita Chili, Chipotle Black Bean Salad, Mediterranean Chickpeas, Hot Fudge Fondue …and hundreds more! (Everything®)
Everything, 9781440528583, 304pp.
Publication Date: February 15, 2012
* Individual store prices may vary.
Description
Who wouldn't want a scrumptious, healthy, all-veggie meal that's ready to eat as soon as you walk in the door? In today's hustle-and-bustle world, it can be difficult to find the time to create meatless dishes that don't take hours to prepare. But with this cookbook, you'll find simple, satisfying recipes for hundreds of meals, including:
Spicy Seitan Buffalo Strips
Vegan Spinach and Artichoke Dip
Citrusy Beets
Slow-Roasted Garlic and Tomato Sauce
Peanut Butter Cake
Complete with an array of vegan options and substitutions, this versatile cookbook has everything you need to create healthy, delicious meals--without spending the day in the kitchen!
About the Author
Amy Snyder worked at the vegetarian restaurant Real Food Daily in Los Angeles and Georgia's famous meat-free restaurant, The Grit. She writes The VegCooking Blog, which receives more than 50,000 visits per month. Most of her nearly 500 unique blog posts contain a vegan recipe and story created by Amy along with photographs that she takes in her home kitchen. Justin Snyder has worked in kitchens professionally for the past sixteen years. As a longtime vegetarian, Justin believes in creating simple, delicious meals that allow each ingredient to shine. His work has led him to many great kitchens in the south, including East West Bistro, Harry Bissett's, and The Grit.