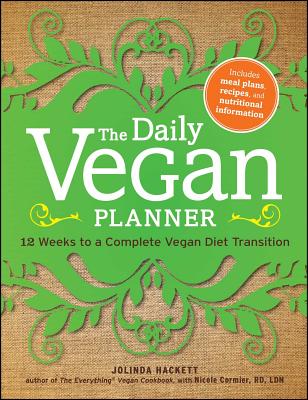 The Daily Vegan Planner (Paperback)
Twelve Weeks to a Complete Vegan Diet Transition
Adams Media, 9781440529986, 240pp.
Publication Date: December 18, 2011
* Individual store prices may vary.
Description
Eating nutritionally balanced, all-vegan meals can be a tough task—after all, broccoli doesn't come with food labels. Now, vegan readers don't have to question how wholesome their healthy food really is or how they'll add sufficient protein to their diet.
The Daily Vegan Planner
pairs twelve weeks of meal plans with journaling space to help new vegans follow a clear-cut strategy as they transition into their new lifestyle. Each day, readers will:
eat four practical, nutritious, and tasty vegan meals;
track essential nutrients—from carbs and protein, to calcium and B12;
record types of food they ate on a vegan food pyramid;
and journal about food discoveries, daily challenges, and kitchen notes.
From the moment they write their vegan mission statement to the time they debrief themselves on Week 12, readers will find themselves fully engaged in making a difference in their lives—and the world—one meal at a time.
About the Author
Jolinda Hackett has been a vegetarian for nearly twenty years, and a plant-based vegan for ten. She wrote The Everything(R) Vegan Cookbook and Cookouts Veggie Style! Hackett counsels new vegetarians online as the About.com Guide to Vegetarian Food. She lives in Santa Barbara, CA. Nicole Cormier, RD, LDN, is a registered dietitian and owner of the nutrition counseling company Delicious Living Nutrition. She wrote The Everyhing(R) Healthy College Cookbook and coauthored The Everything(R) Juicing Book.