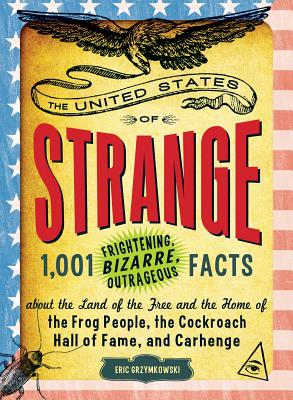 The United States of Strange
1,001 Frightening, Bizarre, Outrageous Facts About the Land of the Free and the Home of the Frog People, the Cockroach Hall of Fame, and Carhenge
Paperback

* Individual store prices may vary.
Description
Life, Liberty, and the Pursuit of All Things Weird

Sure, you probably know that George Washington was our first president and that Christopher Columbus accidentally discovered America in 1492, but did you know that there are more plastic flamingos in the United States than there are real ones and that Disneyland employees were not permitted to wear their own underwear while dressing in character until 2001?

Behind the portrait of America that history classes, news reports, and boring documentaries have painted lies a strange and perplexing country that you couldn't imagine even in your wildest dreams. Featuring 1,001 shocking facts, this book reveals all the secrets and weirdness that you never knew about the United States. From the thirty-two(!) bathrooms in the White House to the fact that a single U.S.–made hamburger may contain meat from 100 different cows, these wacky tidbits will guarantee that you'll never look at this nation the same way again!
Adams Media, 9781440536144, 272pp.
Publication Date: July 18, 2012
About the Author
Eric Grzymkowski (Somerville, MA) is a humor writer and amateur trivia expert. When not writing, he can be found shouting out the answers to Jeopardy! questions and increasing his knowledge base by aimlessly surfing the Internet. He frequents bar trivia nights, and one time almost won. Almost.
or
Not Currently Available for Direct Purchase