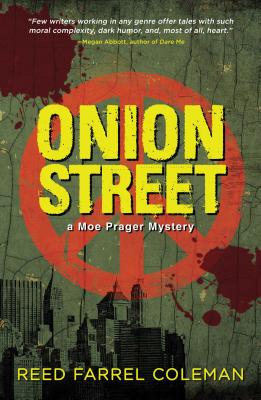 Onion Street
Paperback

* Individual store prices may vary.
Other Editions of This Title:
MP3 CD (7/5/2016)
Compact Disc (9/3/2019)
Hardcover (5/18/2013)
Description
From the author of the New York Times bestselling Robert B. Parker's Blind Spot comes a Moe Prager Mystery.

It's 1967 and Moe Prager is wandering aimlessly through his college career and his life. All that changes when his girlfriend Mindy is viciously beaten into a coma and left to die on the snow-covered streets of Brooklyn. Suddenly, Moe has purpose. He is determined to find out who's done this to Mindy and why. But Mindy is not the only person in Moe's life who's in danger. Someone is also trying to kill his best and oldest friend, Bobby Friedman.

Things get really strange when Moe enlists the aid of Lids, a half-cracked genius drug pusher from the old neighborhood. Lids hooks Moe up with his first solid information. Problem is, the info seems to take Moe in five directions at once and leads to more questions than answers. How is a bitter old camp survivor connected to the dead man in the apartment above his fixit shop, or to the OD-ed junkie found on the boardwalk in Coney Island? What could an underground radical group have to do with the local Mafioso capo? And where do Mindy and Bobby fit into any of this?

Moe will risk everything to find the answers. He will travel from the pot-holed pavement of Brighton Beach to the Pocono Mountains to the runways at Kennedy Airport. But no matter how far he goes or how fast he gets there, all roads lead to Onion Street.
Praise For Onion Street…
"The seventh outing (after Hurt Machine) for PI (and former NYPD cop) Moe Prager makes an effective coming-of-age prequel, explaining how he got into police work in the first place. Coleman has won multiple awards for his gritty but soulful series, and this entry is of that same high caliber. Don't miss it." --Library Journal

"Coleman's latest - a prequel to the award-winning Moe Prager series - is a slam-dunk recommendation for readers drawn to smart, gritty, crime fiction with label-defying characters. Coleman . . . nicely balanc[es] plot and action." --Booklist, Starred Review

"Edgar-finalist Coleman's outstanding eighth Moe Prager mystery (after 2011's Hurt Machine) explains how the NYPD detective turned PI became a cop. The 2012 funeral of an old friend prompts Prager to recount the complex history he shared with the dead man, Bobby Friedman. The twists and turns are unpredictable, but Coleman pulls everything together by the end." --Publisher's WeeklyStarred Review

"Very entertaining company on the beach before the summer slips away." --Penthouse

"The story is exciting enough by itself, it's simply a good mystery story, but what makes it so great is the little pieces of foreshadowing of Prager's future . . . An interesting character study as well as a piece of good historical hardboiled fiction. This one's recommended. Highly." --Sons of Spade blog

"Moe Prager fans are in for a treat as novice crime fighter Moe attempts to solve this convoluted case, giving insight into the cop, PI, and man he eventually becomes. [Coleman] . . . paint[s] a setting so vividly that readers are immersed in the dreariness and despair of 1967 Brooklyn, makes for a book that's difficult to put down." --Mystery Scene Magazine

"There's a lot to enjoy here. It's a book that many Moe fans will enjoy. It's also one that newcomers might find interesting and, in case they don't already know, there's a lot to come if they become hooked." --Sea Minor blog

"For long-time fans of Prager and creator Reed Farrel Coleman, the novel sheds a new and welcome dimension on a long-admired and much-beloved protagonist. It provides a sharp and clearly defined literary snapshot of a tumultuous era . . . The element that I enjoyed most about the book was the manner in which it presented its host of street characters, all of whom had real-life counterparts in the life of anyone who was of age during the 1960s . . . Onion Street is worth reading for that reason alone." --BookReporter.com

"Coleman . . . use[s] the late Sixties, as well as [his] prose poet style, to look at [his] characters in fresh and exciting ways." --Mystery People

"The bones of this story is your typical noir, though Coleman, the master of the twist, never lets the story stray into formula. This story is very organic, and several details resonated with me. Freed from the constraints of a series, Coleman has written what is probably his best novel yet." --Edged in Blue

"A satisfying addition to the series, demonstrating Coleman's trademark humor, twisty plotting, well-developed characters, and an evocative and authentic portrait of the author's beloved Brooklyn. For those who have not yet discovered the series, Onion Street is an excellent place to start." --Reviewing the Evidence

"A deep moral story involving right and wrong . . . Moe's various actions can be questioned, while his intentions are always honorable. All in all, it is a very human saga, and we get to know Moe a lot better in a serious way. Recommended." --Spinetingler Magazine
Gallery Books, 9781440539466, 320pp.
Publication Date: May 18, 2013
About the Author
Reed Farrel Coleman is a New York Times bestselling author that has been called a "hard-boiled poet" by NPR's Maureen Corrigan and the "noir poet laureate" in The Huffington Post. He has published more than twenty-five previous novels, including novels in Robert Parker's Jesse Stone series, the critically acclaimed Moe Prager series, and the Gus Murphy series. A three-time winner of the Shamus Award, he has also won the Anthony, Macavity, Barry, and Audie Awards. He lives with his family on Long Island.
or
Not Currently Available for Direct Purchase