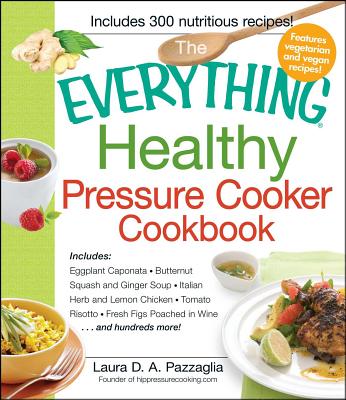 The Everything Healthy Pressure Cooker Cookbook (Paperback)
Includes Eggplant Caponata, Butternut Squash and Ginger Soup, Italian Herb and Lemon Chicken, Tomato Risotto, Fresh Figs Poached in Wine...and hundreds more! (Everything®)
Everything, 9781440541865, 304pp.
Publication Date: October 18, 2012
* Individual store prices may vary.
Description
Enjoy quick, easy, and wholesome meals every day!
The pressure cooker makes crafting healthy and delicious meals for the entire family seem effortless! It not only reduces cooking times by 60% to 90%, but it will also help you save money and preserve the essential vitamins in your food, so you can eat healthier without spending all day in the kitchen.
Inside this cookbook, you'll find 300 quick and flavorful recipes, including:
Baba Ganoush
Pasta and Chickpea Minestrone
Lentil and Black Bean Chili
Spicy Ginger Chicken
Cranberry and Walnut Braised Turkey Wings
Beef and Guinness Stew
Maple-Glazed Ham with Raisins
Coconut Fish Curry
Jambalaya with Chicken, Sausage, and Shrimp
Lemon Pot de Creme
Molten Chocolate Mug Cake
And hundreds more!
With
The Everything Healthy Pressure Cooker Cookbook
, you'll create hearty meals with fresh vegetables, lean meats, whole grains, and fiber-rich legumes. It's time to make your everyday cooking easier and more nutritious!
About the Author
Laura D.A. Pazzaglia is a pressure cooker expert and founder of hippressurecooking.com, a website of pressure cooker recipes, reviews, and tips. She works with pressure cooker manufacturers and travels worldwide to demonstrate and teach the benefits of pressure cooking. She is currently based in Rome, Italy.