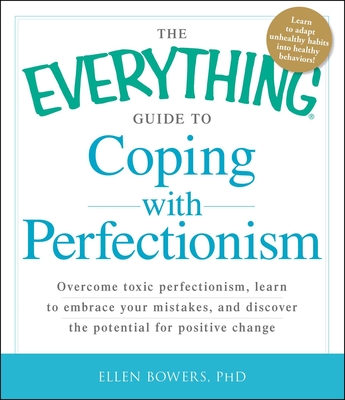 The Everything Guide to Coping with Perfectionism (Paperback)
Overcome Toxic Perfectionism, Learn to Embrace Your Mistakes, and Discover the Potential for Positive Change (Everything®)
Everything, 9781440551604, 304pp.
Publication Date: December 18, 2012
* Individual store prices may vary.
Description
Find your perfect balance!
Perfectionism is an admirable quality, right? After all, what's wrong with working hard to reach lofty goals? But sometimes perfectionism can go too far--well beyond pulling extra hours at work to beat a deadline or cleaning the house until it shines. Toxic perfectionism can result in obsessive behavior, damaged self-esteem, depression, and even physical ailments.
In
The Everything Guide to Coping with Perfectionism
, you'll find tips and techniques to help you recognize symptoms of toxic perfectionism and learn how to introduce flexibility and balance into your life.
This easy-to-use guide includes information on:
The surprising link between perfectionism and procrastination
Eating disorders and the role perfectionism plays in their development
The relationship between obsessive behavior and anxiety
How toxic perfectionism manifests in children
In addition, you'll learn that you don't necessarily need to "fix" perfectionism--you can mold perfectionist behavior into healthy habits and harness your high ambitions to create achievable and positive goals.
About the Author
Ellen Bowers, PhD, is a mental health professional and recovery specialist. For more than thirty years, she has helped individuals to overcome issues with addictions, codependency, and the effects of these, including behavioral addiction and dysfunctional families. She holds a doctorate in psychology, a master's of science degree in education and psychology, and is a member of Mensa. She lives in Los Angeles, CA.
or
Not Currently Available for Direct Purchase