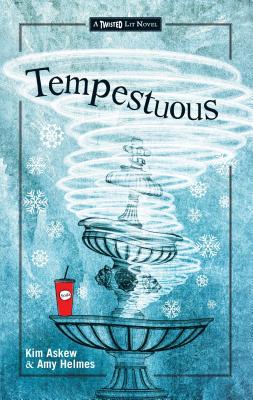 Tempestuous (Hardcover)
Simon Pulse, 9781440552649, 224pp.
Publication Date: December 18, 2012
Description
After a mistake with big financial consequences topples her throne, former "it girl" Miranda Prospero is bitter: she finds herself stranded in a crazed new world, holding court among geeks and misfits at a mall Hot Dog Kabob stand. Then, she gets her chance for revenge. When the storm of the decade snows in the mall workers and last-minute shopaholics for a long winter's night, Miranda sets out to get back at the catty clique who was behind her exile. But there's a complication. She somehow gets handcuffed to sullen loner Caleb. With him (literally) bound to her side, Miranda learns more in one night about her own heart, and human nature, than she ever did as prep royalty. With this twisted take on Shakespeare's The Tempest, authors Kim Askew and Amy Helmes prove again that, from Juliet's grief to Cordelia's rage, no one knew about teen angst better than the Bard. His wisdom holds up nearly half a millennium later.
About the Author
Kim Askew, whose work has appeared in Elle and other magazines, is a content manager for the Webby-winning teen site www.FashionClub.com, covering the Teen Choice and MTV awards. Amy Helmes, coauthor of Boys of a Feather: A Field Guide to American Males, also is a weekly contributor to The Rundown, a daily e-mail service that keeps subscribers informed on what's new and cool in LA.
Advertisement