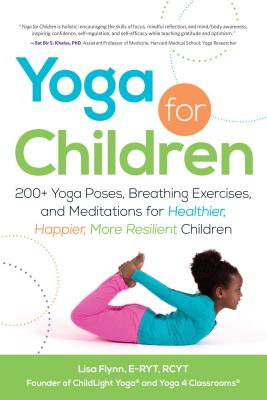 Yoga for Children (Paperback)
200+ Yoga Poses, Breathing Exercises, and Meditations for Healthier, Happier, More Resilient Children
Adams Media, 9781440554636, 320pp.
Publication Date: May 18, 2013
* Individual store prices may vary.
Description
Help your kids de-stress and get healthy!

Yoga for Children will encourage your child to learn about yoga with an attentive, at-home instructor--you! Even if you are new to the practice, author, mom, and children's yoga expert Lisa Flynn will guide you and your child through more than 200 yoga poses, meditations, and activities that are suitable for children between the ages of two and twelve. Complete with full-color photographs, instructional scripts, and pose modifications, Yoga for Children will help build your child's confidence, self-awareness, and focus while strengthening your connection--one yoga session at a time.
About the Author
Lisa Flynn, E-RYT 500, RCYT, Founder of ChildLight Yoga® and Yoga 4 Classrooms®, has an award-winning kids' yoga studio in Dover, New Hampshire. Certified in several schools of yoga for children and adults, Lisa shares her knowledge with hundreds of parents, educators, and yoga teachers every year through her trainings and workshops. You can visit her website at ChildLightYoga.com.
Praise For Yoga for Children: 200+ Yoga Poses, Breathing Exercises, and Meditations for Healthier, Happier, More Resilient Children…
"The health benefits of yoga are world renowned.... Yoga for Children is a simple guide to help make these benefits available to children and families.... These activities remove people from their comfort zones and place everyone on an equal plane, allowing bonding to occur. This is totally applicable to both families and school groups with children age two to twelve who wish to strengthen body, mind and soul." --Green Teacher

"Yoga for Children is a valuable resource for parents of children from toddler to preteen who want to introduce their children not only to asanas, but to a whole healthy lifestyle based on yoga's principles." - Yoga Journal

"I hadn't expected to become immersed in the world of yoga for children, but Lisa Flynn's book made it impossible to not become fully engaged. This is as much a credit to Flynn's depth of experience as a teacher and trainer in the field as it is to the book's flawless presentation. Yoga for Children is a great family book in a high-quality format that provides exceptional value for parents. In my opinion, it's already a classic." - Alive Magazine

"I loved this book.... This book literally combines several of my favorite children's yoga books in one place, but does so in a new and refreshing way. Truly this a well thought out, well written book aimed at parents but definitely invaluable to teachers looking to utilize yoga in the classroom or studio." - Sky Yoga Studio blog

"Yoga for Children is holistic: encouraging the skills of focus, mindful reflection, and mind/body awareness, inspiring confidence, self-regulation, and self-efficacy while teaching gratitude and optimism." - Sat Bir S. Khalsa, PhD, Assistant Professor of Medicine, Harvard Medical School; Yoga Researcher

"I highly recommend Yoga for Children - Flynn presents the information in an easy-to-read and easy-to-follow format. Both of my children have enjoyed reading through the book and practicing the poses and meditations." - AutismEducationSite.com

"Easy to follow, this beautifully illustrated book guides parents into the realm of yoga for kids. You'll learn how to teach your children simple poses that can help their minds and bodies grow." - Examiner.com

"If you have a child in your care and you want to do some intelligent yoga together, this book is a real find. Songs, chants, visualization, even tips for sequencing and some innovative sequences for diverse situations - it's all here. If you interact with kids and are inspired to introduce them to yoga and guide them with wit, fun and wisdom, this book will be an invaluable resource for you." - Yoga Teacher Magazine

"I have fallen in love with the book, Yoga for Children, by Lisa Flynn. The children's yoga world has needed [this] - an encyclopedia of essential kids yoga poses, games, breathing, and mindfulness techniques, that is brimming with new ideas and techniques to try. I'm going to pull this book out anytime I need some new inspiration." - Kidsyoga101.com

"Yoga for Children...offers a vast choice of yoga explorations, including poses, breathing, meditation and creative play that can be guided by and used for practitioners of all levels. Complete with full-color photographs, instructional scripts, and modifications, Yoga for Children will help build your child's confidence, self-awareness, and focus while strengthening your connection--one yoga session at a time." - Yoga Living Magazine

"I love practical, inspiring, research-based, and user-friendly books that are written by experienced, passionate authors. This will be my go-to reference book for kids yoga." - Kids' Yoga Stories

"Yoga for Children has much to offer: succinct instruction on a variety of poses, songs, visualizations and games. Lisa Flynn's book will be a welcome addition to the reading library of every adult interested in sharing the joy of yoga with children. And, thanks to the book's friendly tone and colorful layout, it is sure to be a favorite on kids' bookshelves as well!" - Yoga for Depression