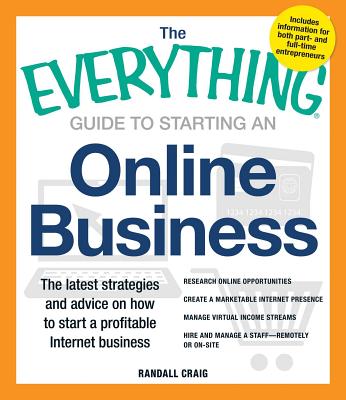 The Everything Guide to Starting an Online Business (Paperback)
The Latest Strategies and Advice on How To Start a Profitable Internet Business (Everything®)
Everything, 9781440555305, 304pp.
Publication Date: January 18, 2013
* Individual store prices may vary.
Description
Create and run your own virtual business!
Whether it is a full-time online consulting business or just selling your crafts on the side, starting an Internet enterprise is a very appealing prospect to a budding entrepreneur!
The Everything Guide to Starting an Online Business
is the perfect guide as you navigate the online market—no matter your experience level. From developing an idea to sharing it with the world, this expert manual provides information on:
Determining what kind of business to create
Developing a smart business plan and online presence
Transitioning from brick and mortar to the virtual world
Using vendor sites like Etsy
Promoting the business with social media
Perfect for part-time entrepreneurs who want to make some extra cash or for full-timers who want one income stream,
The Everything Guide to Starting an Online Business
will help you get your businesses off the ground and onto the web!
About the Author
Randall Craig is an experienced Internet entrepreneur, consultant, and executive advisor. He has founded and sold several successful online startups, held a long-time position at a "big-four" consulting firm, and was an executive at an American public company. Craig has been advising on web strategy since 1994: he put the Toronto Star online, along with the Globe and Mail's GlobeInvestor/Globefund, several financial institutions, and about 100+ other major organizations' internet-based businesses. He lives in Toronto.