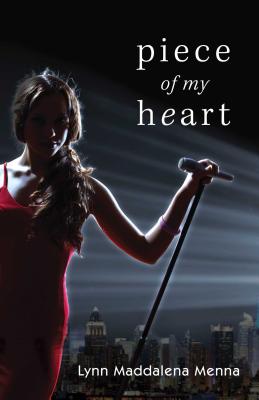 Piece of My Heart
Hardcover

* Individual store prices may vary.
Description
Still in high school, Marisol Reyes gets the chance of a lifetime to be a real singer, and she leaps at it. After all, this is the dream she held on to, all the days and nights she spent growing up on means streets of East Harlem. Marisol never gave in--no matter what her boyfriend or her best friend had to say. Who cares if only one in a hundred pretty, talented girls make it? She will be the one. In her rush to fame, Marisol tramples on the heart of her loyal best friend, and Julian, the boy she loves. But will it be worth it?

One night at a private gig in the Hamptons, the little Latino girl with the big voice from East Harlem gets a severe reality check. A famous rapper who claims to be interested in her talents turns out to be interested in something else, threatening not only Marisol's dreams but her body and soul. Will the realities of the gritty New York music scene put out the stars in Marisol's eyes forever?
Praise For Piece of My Heart…
"Menna's first novel is an optimistic story about preserving one's identity and morals amid the engulfing world of celebrity. Fashionistas and pop-culture junkies should enjoy the lavish descriptions of New York City's rich and famous." --Publishers Weekly

"Piece of My Heart is about having to balance who you're becoming with who you've always been. It's easier said than done! Those sappy backstories on The Voice and American Idol get you every time. You'll be rooting for Marisol every step of the way." --Seventeen.com

Piece of My Heart is perfect for YA audiences. I feel that many young girls will be able to identify to Marisol and the struggles she faces to becoming a successful singer. Over all, enjoyable read." --Kawehi's Book Blog

"This story is a key-hole view into the life of an upcoming musical artist. Unlike most novels I've read in the past couple of months, I find myself actually liking the main character. Marisol had spunk and fire. But she wasn't so hot-blooded as to run into a situation without her head on her shoulders. Lynn Menna really makes her characters so believable that I felt a deeper understanding of each character. In all, Piece of My Heart was a rather energetic read and shows that as long as you put the elbow grease in, anything is attainable." --The Young Folks

"The book . . . has a positive and uplifting feel to it. I could recommend it for a younger audience." --Ellie Reads Fiction blog

"I found this book to be a really quick read. The author does . . . give a nice quick look into what a raising star has to endure to make their dreams come true. Overall this was a good book. A nice showing for new author, Lynn Maddalena Menna." --Cheryl's Book Nook

"I found Piece of My Heart captivating. I really like that the story lets the main character learn some life lessons. Not everything can be learned at school." --Barefoot Dokusha

"I cannot wait to read more from Menna. She captured everyone's voices perfectly." --Book Whirlwind

"I always love a sassy protagonist . . . I was immediately intrigued with her story. Entertaining, juicy, and full of the drama reminiscent of reality television. If you like dramatic situations, then you might like this one." --Confessions of a Book Addict

"This was a great book and a great story and obviously I loved that it revolved around music." --Concert Katie

"This book was an easy read with a good story line." -Just Us Girls

"Fans of Jessica Alba's Honey and Channing Tatum's Step Up will love this story." --Justine Magazine
Simon & Schuster Books for Young Readers, 9781440561054, 240pp.
Publication Date: June 18, 2013
About the Author
Lynn Maddalena Mena, a former teacher, saw the beauty, talent, and radiant hopes of so many students like her character Marisol, and was inspired by wondering where those hopes would go in ten years. A magazine journalist and essayist, she lives in New Jersey with her husband, Prospero. Piece of My Heart is her first novel.
or
Not Currently Available for Direct Purchase