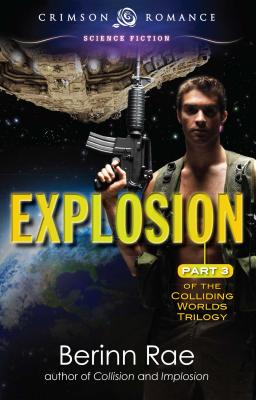 Explosion (Colliding Worlds #3) (Paperback)
Crimson Books, 9781440561139, 228pp.
Publication Date: January 15, 2014
* Individual store prices may vary.
Description
The earth-shattering conclusion of the Colliding Worlds trilogy: It's been one year since the Sephians, Draeken, and humans reached a truce. Peace, at last. It's been six months since news footage revealed that earth no longer stood alone in the universe. Panic ensued. Truces were broken. All aliens were quarantined.
Earth's final war is here and time is running out . . . Talla Kolhm is a Draeken warrior-woman, beaten down but never broken. She refuses to feel any emotion, especially love or compassion. When she meets a kindred spirit in Jax Jerrick, a human soldier with his own share of scars, they develop an uncommon but comfortable rapport. But when a deadly toxin is released across the planet, all aliens are quickly blamed and ordered to be executed. With the help of her human, she escapes, and, despite her vows, Jax reawakens her darkest desires. Betrayed once before, Jax can barely bring himself to trust another woman. Regardless, as Jax deals with his past, Talla reawakens his heart. While battling their simmering passion, they join the resistance committed to finding an antidote. And so the fight begins. Talla will do anything for earth's survival, even sacrifice herself and her heart, which may be the only way to save us all. Sensuality Level: Sensual.
or
Not Currently Available for Direct Purchase