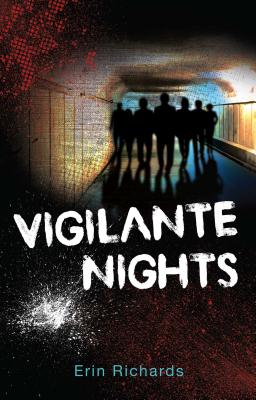 Vigilante Nights
Hardcover

* Individual store prices may vary.
Description
A "good boy" will do anything for vengeance when a gang rite kills his twin sister. Will Lucas win, or follow his sister Silver into the darkness?

After a hideous car wreck, Lucas wakes from a coma to find that his world is gutted. Not only is his beloved twin sister, Silver, gone forever, but Lucas is broken in body and spirit. He will never be a college athlete, and is robbed of what he now realizes was the most important bond of his life. Although they weren't identical twins, Lucas and Silver shared a bond so fierce it defied reason, and was nearly supernatural.

After her death, that bond seems to endure when Lucas sees Silver everywhere he turns. Either he's crazy, or Silver is trying to tell him something about the California gang initiation they stumbled into that cost Silver her life. Lucas is bent on revenge, turning on Raymond, Silver's former boyfriend; the one Lucas never wanted her to date. He forms a posse of vigilantes to take out the gangsters responsible for Silver's death, but he risks not only his own life, but the love of the new girl on his block, who knows more about Lucas and Silver than can be accounted for by mere chance.
Praise For Vigilante Nights…
"This book grabs you from page one and doesn't ever let go!" --Georgia McBride, author of Praefatio

"The premise of Vigilante Nights is absolutely fascinating. It's part contemporary urban street gang, part ghost story, part haunting journey from grief to hope. An action-packed second half should appeal to readers who enjoy urban thrillers with a hint of supernatural." - YA Books Central

"This book was a different look at teen angst and grieving and what happens when someone you love dies. It was an incredible story to read and one I think older teens will enjoy!" - Community Bookstop

"Have you ever felt a sort of innate connection with someone that seems to know no bounds? Vigilante Nights is a unique novel that explores this phenomenon.... Author Erin Richards writes in a powerful manner.... A powerful journey for redemption, revenge and, ultimately, peace." - I Swim for Oceans

"If you or your teen like action-packed, suspense with twists and turns this might be the very book for you." - Just Us Girls

"Red herrings throw suspicion on various characters until the action culminates in a page-turning climax.... A multifaceted story of revenge, violence, romance--and a touch of the paranormal--that will appeal to a broad audience." - School Library Journal
Simon & Schuster Books for Young Readers, 9781440562358, 304pp.
Publication Date: July 18, 2013
About the Author
A seasoned romance writer, Erin Richards fell in love as a teen with S.E. Hinton's The Outsiders. Then, her own memories of a deadly street race by rampaging gang members in her California hometown inspired her first novel for young adults, Vigilante Nights. Richards's romantic suspense novel, Chasing Shadows, was an EPPIE Award finalist. Richards lives in California, where she confesses to a fascination with muscle cars. Visit her on the web at www.erinrichards.com.
or
Not Currently Available for Direct Purchase