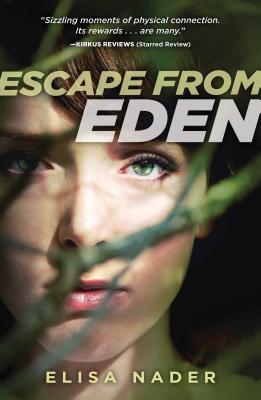 Escape from Eden
Hardcover

* Individual store prices may vary.
Description
Since the age of ten, Mia has rebelled against the iron fist of a fundamentalist preacher who lured her mother away to join a fanatical family of followers. At "Edenton," a supposed Garden of Eden deep in the South American jungle, everyone follows the reverend's strict and arbitrary rules--even about whom they can marry. Mia dreams of slipping away from the armed guards who keep the faithful in and the curious out. When the rebellious Gabe, a new boy, arrives with his family, Mia sees her chance to escape and to free her family. But the scandalous secrets the two discover beyond the compound's facade are more shocking than anything they imagined. While Gabe has his own terrible secrets, he and Mia bond together, more than friend and freedom fighters. But there's no time to think about love as they race against time to stop the reverend's paranoid plan to free his flock--but not himself--from this corrupt world. Can two kids crush a criminal mastermind? And who will die in the fight to save the ones they love from a madman whose only concern is his own secrets?
Praise For Escape from Eden…
"In her first novel, Nader handles pacing with finesse. The story builds dramatic tension very effectively as the stakes are raised with new revelations, violent confrontations, and tough choices.... Many readers will find Mia's first-person narrative a riveting read." --Booklist

"The chemistry between Mia and Gabriel is palpable in their teasing dialogue and sizzling moments of physical connection. Its rewards...are many: fast-moving action, a capable heroine and a resolution that leaves plenty of room for a sequel." --Kirkus Reviews, Starred Review

"Nader has done something amazing: written a really original novel, one full of characters you'll care about; smart, witty dialogue; and plenty of shocks and thrills. A wonderful balance of light and dark." --Michael Grant, New York Times bestselling author of the Gone Series

"An exciting, terrifying, page-turning thrill ride you will not be able to put down." --Gretchen McNeil, author of Possess, Ten, and 3:59

"Chilling, suspenseful, and evocative, Escape From Eden is one of the most surprising love stories I've read in ages. Elisa Nader is an exciting new talent in YA fiction and her first novel will have people lining up to join her cult. Consider me the first member." --Bennett Madison, author of The Blonde Of The Joke and September Girls

"Debut author Elisa Nader hits a strong note with her Escape from Eden. We're not dealing with a superficial narrator here, but rather someone who internalizes a lot more than your everyday YA heroine. Truths are realized quicker than some actions reveal; sensitivities are explored and accepted as part of humanity's very flawed nature." --Examiner.com

"Get ready to stay up late as Nader takes you on a twisty, fast-paced journey in Escape from Eden. Nader manages to...keep the thrill-pace high without compromising a great story...Escape from Eden is a fast-paced thriller with a modern twist that readers of the genre will enjoy." --Authors & Appetizers

"I'm a sucker for a swoon built on a flirty, love/hate relationship, and Escape From Eden doesn't disappoint. Elisa Nader tells a good story... Both the pace and the intrigue build quickly, and there isn't any downtime once the plot gets going. I soon found myself...gleefully anticipating the next twist." --Forever Young Adult
Simon & Schuster Books for Young Readers, 9781440563928, 272pp.
Publication Date: August 18, 2013
About the Author
Elisa Nader is the author of Escape from Eden, a Simon & Schuster book.
or
Not Currently Available for Direct Purchase