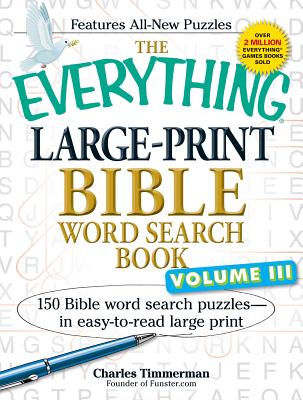 The Everything Large-Print Bible Word Search Book, Volume III (Paperback)
150 Bible Word Search Puzzles - in Easy-to-Read Large Print (Everything®)
Everything, 9781440564529, 352pp.
Publication Date: July 18, 2013
Other Editions of This Title:
Paperback, Large Print (1/18/2013)
Paperback, Large Print (11/18/2011)
Paperback (10/17/2017)
Paperback (8/18/2012)
* Individual store prices may vary.
Description
Puzzles to exercise the brain and move the spirit!
Test your Bible knowledge with
The Everything Large-Print Bible Word Search Book, Volume III
. With 150 uplifting and entertaining puzzles, you can search for the most meaningful words from favorite Bible passages, from Genesis to Revelations.
Test your Bible knowledge with puzzle topics such as:
Jesus
The Gospel of Mark
Paul's Letters
Biblical Proverbs
Inspiration
These engaging puzzles are perfect for Bible students looking for a fun way to review their knowledge of the New and Old Testaments or for word search lovers who enjoy the challenge of theme puzzles. And best of all, with both puzzles and clues in easy-to-read large type, you can put away those magnifying glasses and jump straight into the fun!
About the Author
Charles Timmerman is the founder of Funster.com, a word game website that was selected as a Yahoo! Pick of the Year, and the author of more than 100 puzzle books, including The Everything Jumbo Book of Large-Print Bible Word Searches, The Everything Word Search Book, The Everything Giant Book of Word Searches (Volumes 1 to 4), and The Everything Easy Word Search Book.