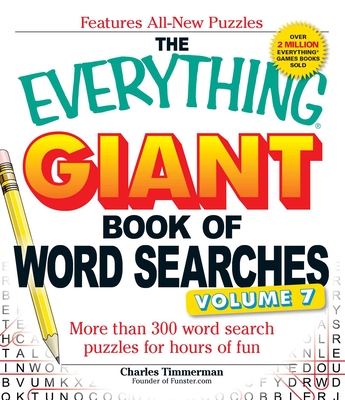 The Everything Giant Book of Word Searches, Volume VII (Paperback)
More than 300 word search puzzles for hours of fun (Everything®)
Everything, 9781440566806, 384pp.
Publication Date: October 18, 2013
Other Editions of This Title:
Paperback (5/18/2013)
Paperback (5/16/2017)
Paperback (6/1/2008)
Paperback (8/9/2015)
Paperback (12/18/2009)
Paperback (9/18/2010)
Paperback (11/28/2017)
Paperback (1/1/2012)
Paperback (10/22/2010)
Paperback (10/22/2010)
* Individual store prices may vary.
Description
An all-new colossal collection of crowd-pleasing puzzles!
Whether you're a pencil puzzler, word search enthusiast, or just looking for a fun and engaging way to spend some time, you'll be delighted by
The Everything Giant Book of Word Searches, Volume VII
. The latest collection from puzzle master
Charles Timmerman
is packed with more than 300 brand-new word search puzzles featuring fun and engaging themes such as literature, popular culture, nature, history, and geography. Inside you'll find puzzles like:
On a date
Raising children
Trip to a museum
In the mail
Mysterious things
Auto parts store
Found in the fridge
Winning words
I love cheesecake
Comet names
In the shed
Edible ingredients
Plus, word search puzzle are good for you! Word puzzles help improve memory, vocabulary, and problem-solving skills and give you a great mental workout. This giant collection is the perfect companion for word search fans who can't get enough of these fun and engaging puzzles.
About the Author
Charles Timmerman is the founder of Funster.com, a word game website that was selected as a Yahoo! Pick of the Year, and the author of more than 100 puzzle books, including The Everything Jumbo Book of Large-Print Bible Word Searches, The Everything Word Search Book, The Everything Giant Book of Word Searches (Volumes 1 to 4), and The Everything Easy Word Search Book.