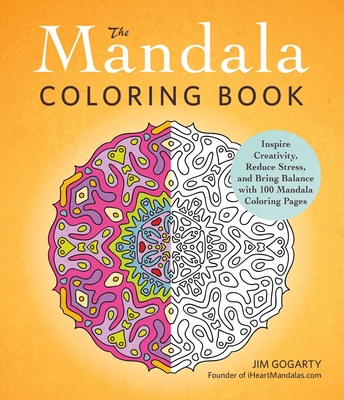 The Mandala Coloring Book
Inspire Creativity, Reduce Stress, and Bring Balance with 100 Mandala Coloring Pages
Paperback

* Individual store prices may vary.
Description
Free your mind with these enlightening mandala designs!
For centuries, mandalas have provided an elevated level of guidance to those seeking peace, inspiration, and a deeper connection to the world around them. Now, with The Mandala Coloring Book, you can use these sacred circles to help you find tranquility and balance in your life. Featuring 100 customizable mandala drawings, this book encourages you to use your imagination to create vibrant patterns that reveal your hidden creative potential and bring you closer to your true self. Each intricate design will draw your eye inward, shifting your focus toward your center and allowing you to fully relax your mind as you express yourself through these beautifully complex illustrations.

Complete with expert instruction and helpful design tips, The Mandala Coloring Book will help you find your inner calm and creativity every day.
Praise For The Mandala Coloring Book: Inspire Creativity, Reduce Stress, and Bring Balance with 100 Mandala Coloring Pages…
"These mandalas can be colored more quickly than some, but can also be colored with great detail if desired. What you will end up with is a beautiful, unique creation, but the process itself will be an engaging one. Beautiful mandalas, can be completed in a relatively short sitting." --Stress.About.com
Adams Media, 9781440569982, 208pp.
Publication Date: September 18, 2013
About the Author
Jim Gogarty has had a passion for drawing for as long as he can remember, ranging from crayons to felt tips to today's digital pen. He began drawing mandalas in 2005 after a spiritual awakening during meditation. Since then, he has worked to turn this love for the symmetrical patterns into a career. He currently runs iHeartMandalas.com, where he brings these images to life.