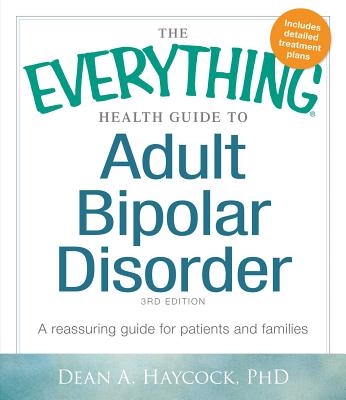 The Everything Health Guide to Adult Bipolar Disorder (Paperback)
A Reassuring Guide for Patients and Families (Everything®)
Everything, 9781440570131, 288pp.
Publication Date: January 8, 2014
* Individual store prices may vary.
Description
Expert help for dealing with this complex diagnosis!
If you or a loved one has been diagnosed with bipolar disorder, it can be confusing and overwhelming. What are the most effective treatments? Will therapy help? When will life return to normal? With
The Everything Health Guide to Adult Bipolar Disorder, 3rd Edition
, you can take charge and manage your condition, or learn the best ways to support your friend or family member. Author Dean A. Haycock, PhD, provides supportive advice on:
Treatments, including alternative and nontraditional approaches
Making the best lifestyle choices for you
Dealing with mania and depression and how to stay in control
Telling others you have bipolar disorder
Recent changes in diagnostic criteria, and how they can affect you
Finding support for yourself and your loved ones
In this completely revised and updated edition, you'll find answers to all your questions--and the support you need to face this challenging condition.
About the Author
Dean A. Haycock, PhD, earned a fellowship from the National Institute of Mental Health to study at The Rockefeller University. The results of his research have been published in Brain Research, Journal of Neurochemistry, Journal of Biological Chemistry, Journal of Medicinal Chemistry, and Journal of Pharmacology and Experimental Therapeutics. His books include The Everything Health Guide to Adult Bipolar Disorder, 2nd Edition; The Everything Health Guide to Schizophrenia; and Murderous Minds: Exploring the Psychopathic Brain. He lives in Salem, NY.