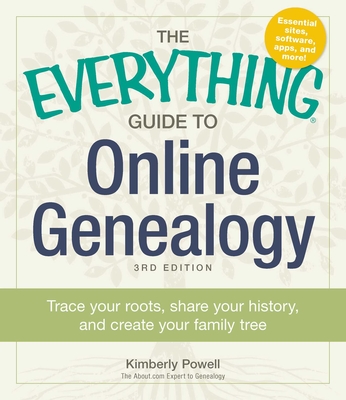 The Everything Guide to Online Genealogy
Trace Your Roots, Share Your History, and Create Your Family Tree (Everything®)
Paperback

* Individual store prices may vary.
Description
Use online tools to discover your family's history!
Thanks to the overwhelming number of genealogical records available online today, it's never been easier to trace your family history and find your roots. But where do you begin? With all that information, it can be impossible to know where to start! In
The Everything Guide to Online Genealogy, 3rd Edition
, genealogy expert Kimberly Powell guides you through the process of finding your ancestors, helping you:
Effectively search various websites
Decipher census data and other online records
Choose the best way to share data with family members
Connect with other genealogists through social media
Packed with tips on using free databases, new websites, and a growing number of genealogy apps,
The Everything Guide to Online Genealogy, 3rd Edition
has everything you need to scour the Internet and find your ancestors, going back generations!
Everything, 9781440570681, 304pp.
Publication Date: January 8, 2014
About the Author
Kimberly Powell is the winner of the 2013 Silver Tray for Excellence in Genealogical Publishing. She is vice president of the Association of Professional Genealogists and a member of the National Genealogical Society and the International Society of Family History Writers and Editors. She has written about genealogy for About.com since 2000, and she is the author of The Everything Family Tree Book, 2nd Edition and The Everything Guide to Online Genealogy, 2nd Edition.