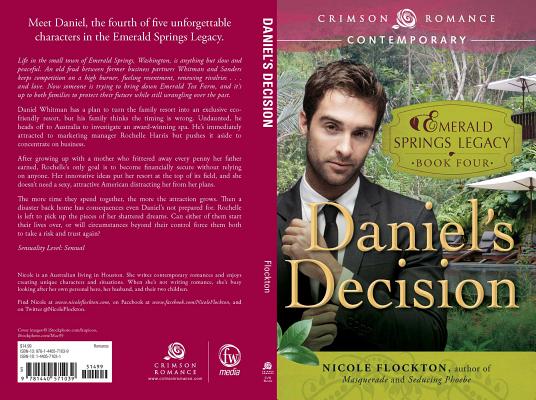 Daniel's Decision (Emerald Springs Legacy) (Paperback)
Crimson Romance, 9781440571039, 184pp.
Publication Date: May 27, 2014
* Individual store prices may vary.
Description
Meet Daniel, the fourth of five unforgettable characters in the Emerald Springs Legacy.

Life in the small town of Emerald Springs, Washington, is anything but slow and peaceful. An old feud between former business partners Whitman and Sanders keeps competition on a high burner, fueling resentment, renewing rivalries . . . and love. Now someone is trying to bring down Emerald Tea Farm, and it's up to both families to protect their future while still wrangling over the past.

Daniel Whitman has a plan to turn the family resort into an exclusive eco-friendly resort, but his family thinks the timing is wrong. Undaunted, he heads off to Australia to investigate an award-winning spa. He's immediately attracted to marketing manager Rochelle Harris but pushes it aside to concentrate on business.

After growing up with a mother who frittered away every penny her father earned, Rochelle's only goal is to become financially secure without relying on anyone. Her innovative ideas put her resort at the top of its field, and she doesn't need a sexy, attractive American distracting her from her plans.

The more time they spend together, the more the attraction grows. Then a disaster back home has consequences even Daniel's not prepared for. Rochelle is left to pick up the pieces of her shattered dreams. Can either of them start their lives over, or will circumstances beyond their control force them both to take a risk and trust again?

Sensuality Level: Sensual
About the Author
USA TODAY bestselling author Nicole Flockton writes sexy contemporary romances, seducing you one kiss at a time as you turn the pages. Nicole likes nothing better than putting her characters into unique situations where they fight to find their true love. Find Nicole Flockton at NicoleFlockton.com, on Facebook at Facebook.com/NicoleFlockton/, and on Twitter @NicoleFlockton.