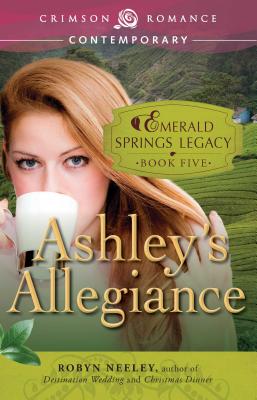 Ashley's Allegiance (Emerald Springs Legacy #5)
Paperback

* Individual store prices may vary.
Description
Meet Ashley, the fifth of five unforgettable characters in the Emerald Springs Legacy.

Life in the small town of Emerald Springs, Washington, is anything but slow and peaceful. An old feud between former business partners Whitman and Sanders keeps competition on a high burner, fueling resentment, renewing rivalries . . . and love. Now someone is trying to bring down Emerald Tea Farm, and it's up to both families to protect their future while still wrangling over the past.

The last five months have been nothing short of exciting for the Whitmans and Sanders. Adam, Chad, and Daniel Whitman have all begun to carve out their niche in the family dynasty. Now it's Ashley Whitman's turn. She's ready to step up with her marketing ideas, talent, and drive to prove she has just as much to contribute to the family tea legacy as her successful cousins.

Deputy Sheriff Jacob Sanders is closing in on who is responsible for the suspicious activities plaguing Emerald Tea Farm and Split Acres. When a questionable encounter outside the local bar forces him to tag along to San Diego and play bodyguard to Ashley Whitman, any other man would jump at the chance to be in close quarters with the beautiful, blonde Whitman. Too bad they hate each other. Forced to spend time together, they discover their mutual dislike might be something else entirely. But can a Whitman and a Sanders really be happy together?

Sensuality Level: Sensual
Crimson Romance, 9781440571053, 212pp.
Publication Date: June 16, 2014