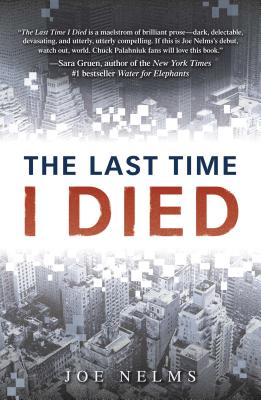 The Last Time I Died
Paperback

* Individual store prices may vary.
Description
"One of the most compelling novels in recent memory" (Booklist) by a bright light in irreverent and compelling fiction: Joe Nelms, author of Formerly Fingerman.

Christian Franco is embracing the despair of divorce, doing nothing to slow the implosion of his career, friendships, and relationships. He camps out at bars to pick fights, finding that getting his ass kicked allows him his only meditative moments, something he explores with sardonic zeal.

Nine years of his childhood are entirely repressed, a consequence of his father killing his mother when Christian was eight. But as Christian is beaten to death in a bar brawl, his life flashes before his eyes and a long repressed memory resurfaces: the stoop of his childhood home, his father in the back of a cop car, and his mother being wheeled away on a gurney. Christian is resuscitated and comes alive with driving purpose. He must know more.

What follows is Christian's increasingly desperate attempts to kill himself, be revived, and slowly piece together snapshots from his childhood to understand this rediscovered self-knowledge and find how it can help him rebuild his life and marriage. Alternating between calculated suicide attempts and heartbreaking memories of a happier time, Christian revels in the underbelly of New York City in a spectacular downward spiral.

Nelms captures Christian's spectacular implosion in punchy, quotable prose, covering a Gotham from glossy Midtown offices to seedy Bronx dog fights. The Last Time I Died has the murky, teasing reality of Fight Club and the gleeful violence of American Psycho, but is entirely fresh, in a voice all its own.
Praise For The Last Time I Died…
"Christian Franco, the creative and charismatic protagonist of Nelms's debut novel, is like an indefatigable class clown, darkly funny and constantly stirring the pot...a relatable modern man and Nelms' crackling prose moves like lightning."
— Publishers Weekly

"Christian's rage-fueled quest to know the truth of his childhood comes in strobe-light snapshot chapters, flashes of manic action much like Chuck Palahniuk's transgressional narratives."

— Kirkus Reviews

"The Last Time I Died falls in that same category Important Movies fall into, where you call it a film and it's deep and powerful and gut wrenching... You should read it, like you should read Eli Weisel's Night or Solomon Northup's Twelve Years a Slave, like you should watch Schindler's List and Hotel Rwanda."
— Amanda Byrne, The Wednesday Review

"Occasionally a book comes along that is so fresh and so different it just stands out. The Last Time I Died is one of those books."
— Crimespree Magazine

"You won't be able to put this book down until you know what happens."
— The Bookworm Sez

"Funny, disturbing, and full of sharp elbows, The Last Time I Died is ultimately a story of redemption, and Nelms delivers a powerful, punishing, and, amazingly enough, hopeful novel."
— Garth Stein, New York Times bestselling author of The Art Of Racing In The Rain

"Joe Nelms's masterful debut is a heat-seeking missile headed straight for your gut, and, be warned, it does not miss its mark."
— Robert Goolrick, #1 New York Times bestselling author of A Reliable Wife and Heading Out To Wonderful

"Smartly written and suspenseful as hell, The Last Time I Died is a brilliant novel."

— Richard Christy of The Howard Stern Show

"From page one, this novel thrusts you into the fraught mind of a man whose life was ruined before it even began, a nobody trapped inside his own lethal obsessions, and the effect is so gripping, so tragic and chilling, that you wouldn't escape even if you could. With stark searing prose and keen insights, Joe Nelms will make you feel what it's like to dive headfirst into disintegration just to discover who you truly are and finally get some peace. The story will tattoo itself to your psyche. You'll be glad and grateful."


— Jeff Backhaus, author of The Rental Sister

The Last Time I Died is a maelstrom of brilliant prose--dark, delectable, devastating, and utterly, utterly compelling. If this is Joe Nelms' debut, watch out, world. Chuck Palahniuk fans will love this book."
— Sara Gruen, #1 New York Times bestselling author of Water for Elephants

"One of the most compelling first novels in recent memory."
— Booklist (Starred Review)
Gallery Books, 9781440571800, 256pp.
Publication Date: January 18, 2014
About the Author
Joe Nelms spent the last twenty years working in advertising, television, and film including senior positions at DMB&B, Grey, BBDO, and Warner Bros. serving clients like Pepsi, GE, Campbell's, Foot Locker, the Harry Potter series, the Ocean's 11 series, and The Matrix Trilogy. He was co-founder, artistic director, producer, and director of Live On Tape, a live sketch comedy show. Additionally, he helped produce Between, a feature film that debuted in the Sundance Drama competition, and he co-wrote the films Shriek If You Know What I Did Last Friday The 13th and The Lost Episode.
or
Not Currently Available for Direct Purchase