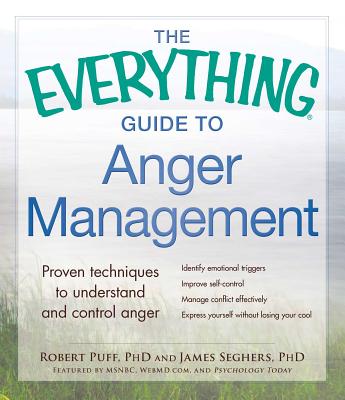 The Everything Guide to Anger Management
Proven Techniques to Understand and Control Anger (Everything®)
Paperback

* Individual store prices may vary.
Description
Practical tools for breaking free of the cycle of anger!
Everyone gets angry once in a while, but sometimes, feelings of rage and resentment can reach unhealthy limits. If you're trying to get a handle on your anger,
The Everything Guide to Anger Management
can help. With practical advice for calming and controlling anger, along with a proven step-by-step plan for lasting change, this guide teaches you how to:
Recognize emotional triggers.
Improve self-control.
Accept responsibility for your actions.
Express yourself in a healthy way.
Implement relaxation techniques.
With techniques from psychologists Puff and Seghers, you'll be able to step back; put negative emotions in the proper prospective; and begin living a happier, more fulfilling life.
Everything, 9781440572265, 288pp.
Publication Date: April 18, 2014
About the Author
Robert Puff, PhD, a psychologist, speaker, and life coach, has appeared on the Discovery Channel, Fox, and MSNBC; in Psychology Today, Forbes, Woman's World, and Martha Stewart Living; as well as on WebMD.com, PyschologyToday.com, and GoodHousekeeping.com. He lives in Newport Beach, CA. James Seghers, PhD, a psychologist, psychotherapist, and researcher, has been published in a number of scientific journals, including Psychiatry Research, Schizophrenia Bulletin, Journal of Nervous and Mental Disease, and the European Journal of Personality. He lives in Irvine, CA.