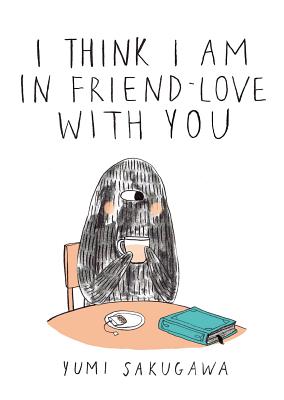 I Think I Am In Friend-Love With You (Hardcover)
Adams Media, 9781440573026, 128pp.
Publication Date: December 6, 2013
* Individual store prices may vary.
Description
YALSA Quick Pick Award Winner

I have a confession to make.
I think I am in friend-love with you.

What's friend-love? It's that super-awesome bond you share with someone who makes you happy every time you text each other, or meet up for an epic outing. It's not love-love. You don't want to swap saliva; you want to swap favorite books. But it's just as intense and just as amazing.

And it's this search for that connection that comic-book artist Yumi Sakugawa captures in I Think I Am in Friend-Love with You. It's perfect if you've ever fallen in friend-love and want to show that person how much you love them...in a platonic way, of course.
About the Author
Yumi Sakugawa is a comic book artist and illustrator based in Southern California. She is a graduate of the fine art program of University of California, Los Angeles, and a regular comic contributor to Wonderhowto and The Rumpus. You can visit her website at YumiSakugawa.com.
Praise For I Think I Am In Friend-Love With You…
"Look around. You won't find anything sweeter than this lonely little book anywhere in your immediate vicinity. Unless for some reason there's, like, a bunny knitting a scarf for a puppy. That might be sweeter. Aside from that, this book is definitely your best bet." --Avery Monsen, coauthor of K is for Knifeball and All My Friends Are Dead

"This is one of my favorite comics ever, a sweet ode to platonic love that will echo through the ages." --MariNaomi, author of Kiss & Tell

"Funny and beautifully drawn, I Think I Am In Friend-Love With You is the bittersweet tale of friendships in the age of social media in which many can relate." --Esther Pearl Watson, author of Unlovable

"The warmth of Yumi's soft brushstrokes and vulnerability of her words make me feel less alone in this weird world. I think I am in book-love." --Lisa Hanawalt, author of My Dirty Dumb Eyes

"Yumi Sakugawa's small, sweet hardcover I Think I am in Friend-Love With You (Adams Media) feels so necessary. Sakugawa's one-eyed, vaguely socklike protagonist fantasizes a future of book-swapping, Tumblr post–reblogging, coffee-sipping platonic love, but reveals the most simple of needs in the book's simple black-and-white illustrations." - Bitch Magazine

"I Think I am In Friend Love With You...chronicles a bashful cyclops with a good old fashioned friend crush. Sakaguwa's comics, while being hilarious, are imbued with a quiet magic that somehow makes a glowing computer screen as ripe with beauty and mystery as a night sky full of twinkling stars." - Huffington Post Arts

The comic...expresses all the delightful, little things we hope our best...pals will do for us.... [Yumi's] work has an eerie, wondrous quality to it, blipped with panels that will make your heart soar and dip and soar again. Themes of space and love pull readers into a pensive world of fantastical creatures." - NPR's Code Switch

"In this cute little comic book, Yumi Sakugawa calls attention to how wonderful and fulfilling friendships can be...a fun and respectful look at platonic love." - Rookie Magazine

"It's gorgeous and poignant, and the art is unique. I adore it." - HelloGiggles

"Wonderfully touching...comic book artist Yumi Sakugawa has figured out the modern logistics of 21st platonic romance. In addition to her many wise words, Sakugawa's irresistible, imaginative, charming illustrations add layered examples of how to be a giving, deserving friend.... All those instant social media connections aside, nothing replaces face-to-face, livetime, friend-love-ly sessions of sharing and caring." --BookDragon, the Smithsonian Asian Pacific Center blog