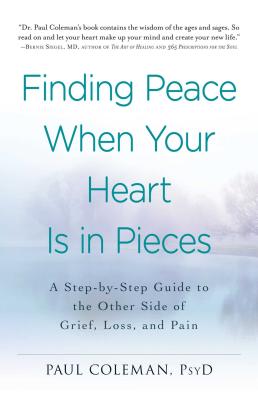 Finding Peace When Your Heart Is In Pieces
A Step-by-Step Guide to the Other Side of Grief, Loss, and Pain
Paperback

* Individual store prices may vary.
Description
A sensitive approach to overcoming loss!

Behind every tragedy and loss lies a tranquil reality just waiting to be found. Finding Peace When Your Heart Is in Pieces shows you how to use the Four Paths of Transformation--acceptance, inspiration, release, and compassion--to move past your suffering and discover inner peace. Author Paul Coleman, PsyD, guides you through every chapter with powerful exercises that help you evaluate your current emotional state and how the hardship has impacted your life. With his guidance and insight, you will learn how to transform your pain into positive thinking, find perspective through charitable acts, and hone in on what you need to do to step into a brighter future.

Whether mourning the loss of a romance, health, a loved one, or coping with any of life's upheavals, Finding Peace When Your Heart Is in Pieces will help you overcome your pain and finally find peace within yourself.
Praise For Finding Peace When Your Heart Is In Pieces: A Step-by-Step Guide to the Other Side of Grief, Loss, and Pain…
Winner of the 2015 Nonfiction Book Gold Award

"Dr. Paul Coleman's book contains the wisdom of the ages and sages. So read on and let your heart make up your mind and create your new life." --Bernie Siegel, MD, author of The Art of Healing and 365 Prescriptions for the Soul

"Paul Coleman takes the reader on a journey through grief and healing as one who knows both. This touching and insightful book is a must read for anyone trying to find peace in the sea of sorrow left by death." --Mark Anthony, author of Never Letting Go: Heal Grief with Help from the Other Side

In Finding Peace When Your Heart Is in Pieces, Dr. Paul Coleman invites readers to explore the peace behind the pain of loss, the harmony that lies within struggle, and the wonder of the work itself. His ability to help others connect the emotional and intuitive dots is a gift to all." --Debra Snyder, PhD, author of Intuitive Parenting: Listening to the Wisdom of Your Heart (Atria/Beyond Words 2010)

"Paul Coleman's important new book Finding Peace When Your Heart Is in Pieces helps you remove the dark veil on your thoughts and realize that even when the past cannot be changed, YOU can be transformed." --Jarek Zabczynski, director/producer Jester Pictures, winner for Best Music Video at the 2011 Las Vegas Film Festival (Director); winner, BET Award for Best Inspirational Video 2010 (Director)

"Finding Peace When Your Heart Is In Pieces is a practical, loving, and needed guide for anyone seeking to forge an internal roadmap toward peace and forgiveness after loss. Paul Coleman co-pilots the reader's GPS from chaos to contentment, while honoring their human experience." --Austyn Wells, spiritual medium and energy intuitive, host/contributor to John Edward's The Five web portal

"Paul Coleman's Finding Peace When Your Heart Is in Pieces illuminates brand new insights of hope and compassion to help guide you through life's difficult losses and transitions." --Lora Lee Ecobelli, actor (Broadway and Off-Broadway), screenwriter, and Artistic Director of Blue Horse Repertory Company

"Finding Peace When Your Heart Is in Pieces is a much-needed book during current times of stress, loss, and upheaval. Dr. Paul Coleman offers readers an oasis in the midst of personal storms." --Athena A. Drewes, author of Integrative Play Therapy (Wiley, 2011); director of Clinical Training, Astor Services for Children and Families; periodic contributor to A&E's Psychic Kids

"When we struggle to find answers to life's challenges, Finding Peace When Your Heart Is in Pieces and Dr. Paul Coleman's other books always provide a 'right on' resource." --Ron Mombello, TV writer (I Love Lucy, Kate and Allie, Hollywood Squares), film critic ("On the Aisle with Ron Mombello"), and author of iRage: Behind the Wheel

"In this absorbing work, [Paul Coleman] focuses on finding peace in the heart when confronted by grief, loss and pain. As we travel these paths to a more fulfilling and open way of living, certain benefits accrue, such as the realization that we are co-creators of our destiny; that our thoughts, words and deeds have a ripple effect; and that higher states of consciousness are possible." --Spirituality & Practice
Adams Media, 9781440573385, 224pp.
Publication Date: November 1, 2014
About the Author
Dr. Paul Coleman is a psychologist in private practice specializing in grief, anxiety/trauma, intuition development, and rebuilding relationships for more than twenty years. He has appeared on national television shows, including Oprah, Today, Geraldo, and Fox's The Morning Show with Mike & Juliet, as well as in Cosmopolitan magazine and Parenting magazine. Coleman is a member of numerous professional organizations, including the American Association for Marriage and Family Therapy and the American Psychological Association.