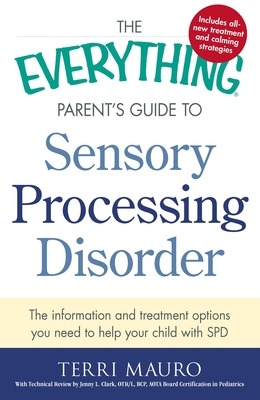 The Everything Parent's Guide To Sensory Processing Disorder (Paperback)
The Information and Treatment Options You Need to Help Your Child with SPD (Everything®)
Everything, 9781440574566, 304pp.
Publication Date: June 6, 2014
Other Editions of This Title:
Paperback (8/9/2006)
* Individual store prices may vary.
Description
If your child has been diagnosed with sensory processing disorder (SPD), you understand how simple, everyday tasks can become a struggle. With
The Everything Parent's Guide to Sensory Processing Disorder
, you can help your child learn how to reduce stress and minimize the symptoms of SPD. In this all-in-one guide, Terri Mauro provides all the information you need regarding SPD, including:
An in-depth definition of SPD and its effects.
The newest treatments, therapies, and diets.
Techniques for use outside of the therapist's office.
The latest research on physical causes of SPD.
Advice for coping at school, home, and play.
Your child deserves to live a life free of the difficulties SPD can bring.
The Everything Parent's Guide to Sensory Processing Disorder
gives you professional advice to help your child to manage sensory needs and feel calmer, happier, and in control, now and in the future.
About the Author
Terri Mauro is About.com's expert on Parenting Children with Special Needs, and the author of The Everything Parent's Guide to Sensory Integration Disorder. Her blog, Mamatude.blogspot.com, offers help for adoptive and special-needs parents, and has been named a USA Today Hot Site and a Good Housekeeping Site of the Day. She also cohosts The Inclusive Class (www.TheInclusiveClass.com), a podcast discussing education for children with special needs. She lives in Clifton, NJ. Jenny Clark, OTR/L, BCP (AOTA Board Certification in Pediatrics), is a licensed pediatric occupational therapist with more than twenty-two years of experience working as a school-based occupational therapist, independent contractor for early intervention services, private practitioner, speaker, consultant, author, and inventor. She currently owns a pediatric therapy private practice, Jenny's Kids, Inc. (www.SPDConnection.com). She lives in Lawrence, KS.