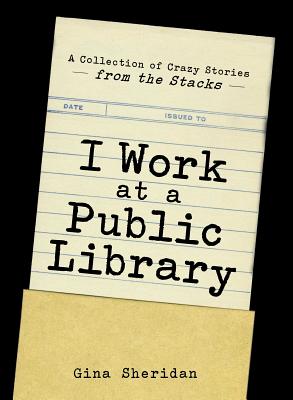 I Work At A Public Library
A Collection of Crazy Stories from the Stacks
Paperback

* Individual store prices may vary.
Description
Straight from the library--the strange and bizarre, ready to be checked out!

From a patron's missing wetsuit to the scent of crab cakes wafting through the stacks, I Work at a Public Library showcases the oddities that have come across Gina Sheridan's circulation desk. Throughout these pages, she catalogs her encounters with local eccentrics as well as the questions that plague her, such as, "What is the standard length of eyebrow hairs?" Whether she's helping someone scan his face onto an online dating site or explaining why the library doesn't have any dragon autobiographies, Sheridan's bizarre tales prove that she's truly seen it all.

Stacked high with hundreds of strange-but-true stories, I Work at a Public Library celebrates librarians and the unforgettable patrons that roam the stacks every day.
Praise For I Work At A Public Library: A Collection of Crazy Stories from the Stacks…
"Librarians will surely nod their heads and either sigh or laugh. As they say at the library: Check it out." --St. Louis Post-Dispatch

"Libraries, contrary to popular belief, are often full of hijinks, odd patrons and ridiculous requests. Gina Sheridan's book, I Work at a Public Library, describes this in a perfectly charming way. The beautiful thing about Gina's outlook is that...she's gracious, kind and helpful in every scenario. Just like you'd hope your librarian would be." --Racket Magazine

"If you love bookstores and libraries (and especially if you've ever worked in one), you'll enjoy [this] book." --GeekDad.com
Adams Media, 9781440576249, 160pp.
Publication Date: July 31, 2014
About the Author
An Adams Media author.