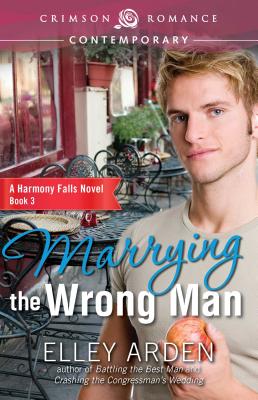 Marrying The Wrong Man (Paperback)
Crimson Romance, 9781440579622, 200pp.
Publication Date: May 27, 2014
* Individual store prices may vary.
Description
Three years ago, Morgan Parrish was embroiled in her father's plan to marry a man who was destined for the presidency. There was just one problem: Morgan was in love with and pregnant by another man. When the house of cards her father had built came tumbling down, Morgan fled town and the backlash. Now, she's stuck in Harmony Falls after a childhood bank account turns out to be empty. Even more shocking, the child she intended to place for adoption rather than cause more scandal is at her side.

As the son of the town drunk, life hasn't always been easy for Charlie Cramer. Maybe that's why he's holding on to his own sobriety and his brand-new restaurant so tightly - too tightly if his grouchiness and control-freak tendencies in the kitchen are any indication. To make matters worse, Morgan Parrish is back in town … and she has a surprise for him. He's a daddy! Can he face the truth and not lose the stability he's worked so hard to achieve these last three years?

When a staff shortage ends up with Morgan waitressing at the bistro five nights a week, old feelings come to a boil. But there's even more to consider, now. If they give in to the attraction and screw things up again, a precious little girl will have to deal with the fallout. On the other hand, if they can make this work, they'll be a family. It's the biggest risk either one of them will ever take.

Sensuality Level: Sensual
About the Author
Elley Arden is a proud Pennsylvania girl who drinks wine like it's water (a slight exaggeration), prefers a night at the ballpark to a night on the town, and believes almond English toffee is the key to happiness. Find Elley Arden at ElleyArden.com, on Facebook at Facebook.com/elleyardenauthor, and on Twitter @elleywrites.