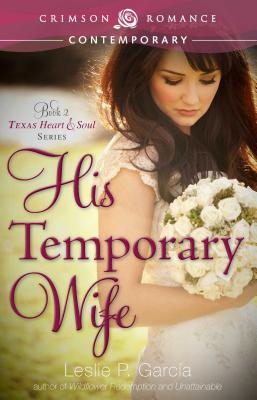 His Temporary Wife
Paperback

* Individual store prices may vary.
Description
When Esmeralda Salinas left her childhood home, she left behind the judgmental lectures and cold, unaffectionate parents who never found her good enough to compete with her brother Beto. Esme fashions herself into her own woman, and refuses to let others dictate her behavior or her dreams. After a love affair goes wrong in Rose Creek, Texas, she packs up her horse and moves to even tinier Truth, Texas.

When Esme finds herself singing country karaoke in her aunt's bar, she can deal with that. But when Tía demands that Esme consider a job offer from devastatingly sexy Rafael Benton, Esme realizes that the small town of Truth might harbor some horrific lies revolving around Rafael and his recently deceased sister Cody, who had reached the pinnacle of the country music season only to crash and burn.

Still, Esme listens to Rafael's sales pitch and can't believe what he offers: almost a quarter million dollars to marry him for the summer.

Rafael talks a good game, and Esme knows she could enjoy the benefits of marriage to him, with or without the formalities and pre-nuptials and pretense. But sleeping with a man for the thrill is one thing. Marrying him for money is another. Can she accept a job that would make her rich but might destroy all she holds sacred?

Sensuality Level: Sensual
Crimson Romance, 9781440580949, 236pp.
Publication Date: May 27, 2014