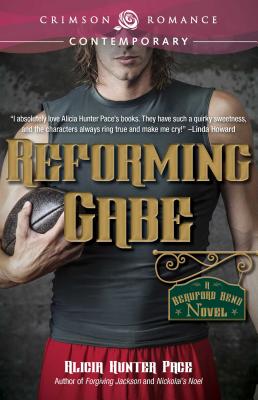 Reforming Gabe (Beauford Bend #3) (Paperback)
Crimson Romance, 9781440581977, 238pp.
Publication Date: April 24, 2015
* Individual store prices may vary.
Description
The world loved Heisman trophy winner and two-time Super Bowl champion Gabe Beauford - until he blew it and cost San Antonio the chance to make history. Now his brother's wedding back in Beauford Bend offers the perfect hideout.

Neyland MacKenzie has a passion for jewelry making and a hatred for football. Neither is working out very well. With sales down, it's getting harder to pay the rent or buy new materials, and she can't escape the notoriety of being the daughter of the beloved Beauford high school coach.

Still, when Gabe walks into her shop looking like a cross between a GQ model and a Viking warrior and picks out the most expensive piece in her case, Neyland refuses to sell to him. Everybody knows he sends women jewelry as kiss-off gifts, and her art will not be part of that, even if Gabe does have the bluest eyes in Tennessee.

Gabe has never been one to walk away from a challenge, especially when he needs a distraction - and most especially when that challenge has legs that would stop a locomotive. But if Neyland tackles his heart, could it cost him another ring?

Sensuality Level: Sensual
About the Author
USA TODAY bestselling author Alicia Hunter Pace is the writing team of Stephanie Jones and Jean Hovey. Stephanie lives in Jasper, Alabama, where she teaches sixth grade. She is a native Alabamian who likes football, Civil War history, and people who follow the rules. She is happy to provide a list of said rules to anyone who needs them. Jean, a former public librarian, lives in Decatur, Alabama, with her husband in a hundred-year-old house that always wants something from her. She likes to cook but has discovered the joy of Mrs. Paul's fish fillets since becoming a writer. Find Alicia Hunter Pace at AliciaHunterPace.com, on Facebook, and on Twitter @AliciaHPace.