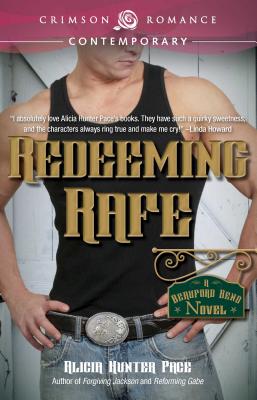 Redeeming Rafe (Beauford Bend #4) (Paperback)
Crimson Romance, 9781440582004, 258pp.
Publication Date: August 17, 2015
* Individual store prices may vary.
Description
To the world, professional rodeo cowboy Rafe Beauford is the fearless rider with an easy smile who never backs down from a challenge. But when a buckle bunny he knew back in Odessa dies in a motorcycle accident and Rafe learns he's the father of twin baby girls, he finally gets a taste of real fear.

There's not much call for a Shakespeare scholar in Beauford, Tennessee, so widowed single mother Abigail Whitman is coming up short on earning options. Then blond, sexy Rafe rides into town needing a nanny. He's willing to pay generously--not to mention Abby and her son can live at the family plantation, Beauford Bend. Abby agrees to take the job, on the condition that he stays home for a month to bond with his daughters.

There aren't any bulls at Beauford Bend to distract Rafe, but there is Abby with her classy ways and heart-stealing eyes. When she manages to cut through his defenses to his vulnerable heart, Rafe's new biggest fear is that he'll fall hard and end up hurt all over again.

What's a cowboy to do?

Sensuality Level: Sensual
About the Author
USA TODAY bestselling author Alicia Hunter Pace is the writing team of Stephanie Jones and Jean Hovey. Stephanie lives in Jasper, Alabama, where she teaches sixth grade. She is a native Alabamian who likes football, Civil War history, and people who follow the rules. She is happy to provide a list of said rules to anyone who needs them. Jean, a former public librarian, lives in Decatur, Alabama, with her husband in a hundred-year-old house that always wants something from her. She likes to cook but has discovered the joy of Mrs. Paul's fish fillets since becoming a writer. Find Alicia Hunter Pace at AliciaHunterPace.com, on Facebook, and on Twitter @AliciaHPace.