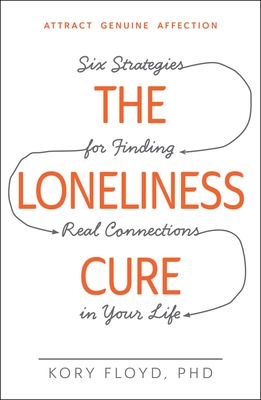 The Loneliness Cure (Paperback)
Six Strategies for Finding Real Connections in Your Life
Adams Media, 9781440582097, 272pp.
Publication Date: May 1, 2015
* Individual store prices may vary.
Description
Rediscover the benefits of a real-life social network!

Although today's technology allows you to communicate with people all over the globe, it can also leave you feeling disconnected and unhappy in the real world. The Loneliness Cure helps you rediscover the power of socializing in person and finally find the affection you've been longing for. Written by communication expert Kory Floyd, PhD, this valuable guide details the causes of affection hunger, helps you assess your needs, and offers six compelling strategies for attracting more intimacy into your relationships and everyday life. This guidebook details the causes of affection hunger, helps you assess your needs, and shows you how to build genuine connections to those around you.

Whether you're looking to get the undivided attention of a friend, reconnect physically with a romantic partner, or grow closer to your family, this book provides you with the tools you need to lead a healthier, happier, and more affectionate life.
About the Author
Kory Floyd, PhD, is a professor of family and interpersonal communication at Arizona State University, where he has studied communications of affection for more than twenty years. He has been featured on Today, HuffPo Life, NPR, and BBC radio, and in numerous print sources, including Glamour, Women's Health, Redbook, and Seattle Times. He speaks at many engagements each year, and has authored several textbooks about communications skills and personal relationships. You can visit his website at www.koryfloyd.com.
Praise For The Loneliness Cure: Six Strategies for Finding Real Connections in Your Life…
"Professor Floyd turns his academic research on affection into a self-help book for the lay reader. Kory...combines anecdotes, questions for the reader to reflect on, and explanations of the research he conducted.... Thought-provoking." --Publishers Weekly

"A great resource for anyone looking to slow down, put away their smart phones, and start making meaningful connections in their lives. The Loneliness Cure is the perfect guide to gaining the affection we're missing from the people we love." --Mark Feuerstein, star of Royal Pains

"Floyd's eye-opening and realistic approach for connecting with others will find wide appeal." --Library Journal

"In a world of endless tech gadgets that promise to 'connect' us in ever more efficient ways, people today are paradoxically feeling more isolated than ever. The Loneliness Cure is a resource for those looking to slow down, silence their smartphones, and start making--or reclaiming--meaningful connections in their lives." --The New York Journal of Books

"The book clearly conveys the science behind loneliness. It can be a helpful primer for anyone who desires more affection in life or is worried that a friend or family member may be suffering from an affection deficit. Like the best self-help books, The Loneliness Cure convinces readers that 'it pays to reach out for help when you need it' and gives them the confidence and tactics to do so." --Foreword Reviews

"Floyd frequently encourages us to interact with the book...which make this a more engaging read.... I felt well informed and armed with strategies to make real connections.... Floyd leaves readers with reason to feel hopeful about present and future relationships--which, given how bottomless loneliness can feel, is no small task." --Psych Central