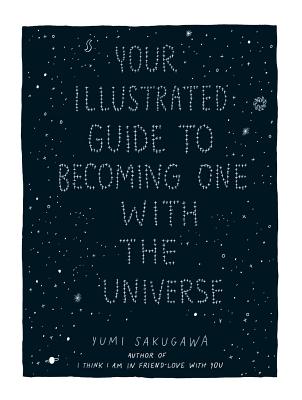 Your Illustrated Guide To Becoming One With The Universe (Hardcover)
Adams Media, 9781440582639, 160pp.
Publication Date: October 3, 2014
* Individual store prices may vary.
Description
Named one of the Best Books of 2014 by NPR

As seen on The Today Show

A hand-drawn path to inner peace!

Your Illustrated Guide to Becoming One with the Universe will set you free on a visual journey of self-discovery. Set against a surreal backdrop of intricate ink illustrations, you will find nine metaphysical lessons with dreamlike instructions that require you to open your heart to unexplored inner landscapes. From setting fire to your anxieties to sharing a cup of tea with your inner demons, you will learn how to let go and truly connect with the world around you.

Whether you need a little inspiration or a completely new life direction, Your Illustrated Guide to Becoming One with the Universe provides you with the necessary push to find your true path--and a whimsical adventure to enjoy on the way there.
About the Author
Yumi Sakugawa is a comic book artist and the author of I Think I Am In Friend-Love With You. She is a regular comic contributor to The Rumpus and Wonderhowto.com, and her short comic stories "Mundane Fortunes for the Next Ten Billion Years" and "Seed Bomb" were selected as Notable Comics of 2012 and 2013, respectively, by the Best American Comics series editors (Houghton Mifflin Harcourt). A graduate of the fine art program of the University of California, Los Angeles, she lives in southern California. Visit her on the web at www.yumisakugawa.com.
Praise For Your Illustrated Guide To Becoming One With The Universe…
"Your Illustrated Guide to Becoming One with the Universe opens your mind to the infinite possibilities that exist within yourself. Yumi Sakugawa adds new life to age-old wisdom through her dreamlike drawings. I am a huge fan of Yumi's work!" --Mallika Chopra, founder and CEO of Intent.com

"I keep this little book beside my bed to remind me of everything I know, but often forget." --Pam Grout, author of E-Cubed and E-Squared

"In the deepest crystal caves of my heart is a voice, a voice bejeweled with squiggly star shapes and amorphous beings, a strange voice that sings to me in the quietest of moments. Sometimes when that voice is missing, Your Illustrated Guide to Becoming One with the Universe takes its place. Yumi channels this voice effortlessly, and her illustrated guide has time and time again become my lullaby, my friend-love, and a sentient being dressed in the most effortless beeline black lines and jewels of wisdom. I LOVE THIS." --Shilo Shiv Suleman, visual artist and creator of The Fearless Collective

"I love this book. It's brief, beautiful, and bears some truths...that we are, in fact, a part of a much larger system of life. Yumi Sakugawa's art is actually meditative to look at. Pick it up, please, on a bad day or good." --Bust Magazine

"Your Illustrated Guide to Becoming One with the Universe overflows with helpful, simple (yet cosmic) wisdom rendered visual in...delicate and sequential pen drawings...that brought her previous book, I Think I Am in Friend-Love with You...such immediacy." --Austin Chronicle

"A beautifully illustrated comic.... Yumi Sakugawa has used her spare, sweet and lightly melancholic illustrations to address a number of uniquely contemporary phenomena.... Sakugawa's style is so evocative that it's likely to make its reader forget any reservations he or she has about the mantras packaged within it." --Huffington Post Books

"Yumi Sakugawa's latest book is a gorgeous, meditative poem set to intricate illustrations.... Reading it is like getting a warm hug from a friend." --Bitch Magazine

"A beautiful, funny, and genuinely inspiring spiritual handbook for the Cosmos age you didn't know you were waiting for.... Sakugawa's quiet truisms, deceptively simple exercises, and surreal ink-wash mandalas effortlessly engage you in the profound consequences of that simple realization." --Seattle Weekly

"Whether you're stuck in a rut or in need of a life overhaul, Your Illustrated Guide to Becoming One With The Universe by Yumi Sakugawa is an artful way to help get things back on track.... Yumi's beautiful illustrations...are sure to put yourself back on track to happiness." --CultCollective.com

"I've never considered myself to be anywhere near to becoming one with the universe, but Yumi Sakugawa has me convinced that there's hope.... It's instructional, it's kind and it's a wonderful book in which to bury your head." --NPR Books, Staff Picks 2014

"Yumi Sakugawa takes you on a visual journey of self-discovery and connection with the universe." --Advocate.com

"A pretty, easy way into mindfulness. Sakugawa's inky illustrations are marvelously creative.... Sakugawa asks rhetorically, 'how can we possibly feel oneness with the universe if we aren't creating any space to really listen to what the universe is trying to tell us?' It's an important question, posed in truly beautiful way." - Good Magazine

"Yumi Sakugawa is...an imaginative messenger of simple clarity. That her art is so marvelously creative certainly makes her titles delightfully inviting. Sakugawa is determined to slow you down, bring you back together, reconnect you with yourself and beyond--in nine gentle lessons. Just reading Sakugawa's step-by-compassionate-step pages provides a few minutes of tranquility. Linger longer with her artful beings, demons, shapes, landscapes, and enjoy the peaceful haven...temporary it may be, but you know you'll always be welcome back." --BookDragon, the Smithsonian Asian Pacific Center blog

"This is actually an awesome book because it started out as a magazine and it's kind of self-help, but it's beautifully illustrated. It's full of wisdom but it feels cool." --Mindy Kaling, The Today Show Online