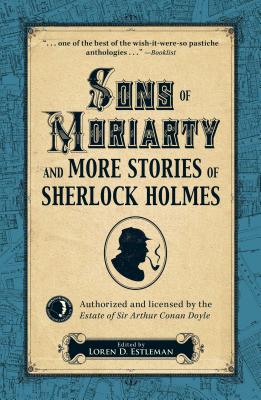 Sons of Moriarty and More Stories of Sherlock Holmes (Paperback)
Gallery Books, 9781440582721, 208pp.
Publication Date: November 1, 2014
Description
..".one of the best of the wish-it-were-so pastiche anthologies..." --Booklist Award-winning author Loren D. Estleman has curated a collection of Sherlock Holmes stories from some of the finest authors in Sons of Moriarty and More Stories of Sherlock Holmes. This is the first time that these stories appear together in one anthology, including "Sons of Moriarty," a Sherlock Holmes novella, appearing here for the first time. Estleman's last Holmes collection, The Perils of Sherlock Holmes, was authorized by the Estate of Arthur Conan Doyle and was met with rave reviews. It was dubbed "an excellent collection of short stories and essays" by the New York Review of Books, "an entertaining and diverting read" by Bookpleasures.com, and said to transport readers "to another place and time during the series of short stories that pay homage to the legend that is Sherlock Holmes" on Pop Culture Guy blog.
About the Author
Loren D. Estleman is the author of nearly seventy novels, including the long-running Amos Walker private detective series; Sherlock Holmes Vs. Dracula, or The Adventure of the Sanguinary Count; and Dr. Jekyll and Mr. Holmes. In thirty years, his Sherlock Holmes novels have rarely been out of print.
Advertisement