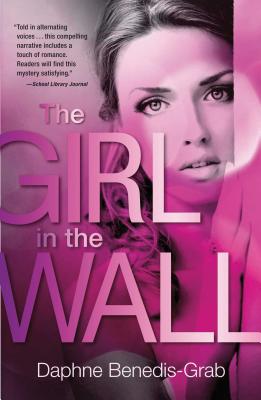 The Girl in the Wall
Paperback

* Individual store prices may vary.
Other Editions of This Title:
Hardcover (12/18/2012)
Description
YALSA Quick Pick Award Winner

Named by Huffington Post Books as a Top 10 Book For Kids Who Hate Reading

Ariel's birthday weekend looks to be the event of the season, with a private concert by rock star Hudson Winters on the grounds of her family's east coast estate, and all of Ariel's elite prep school friends in attendance. The only person who's dreading the party is Sera, Ariel's former best friend, whose father is forcing her to go. Sera has been the school pariah since she betrayed Ariel, and she now avoids Ariel and their former friends. Thrown together, Ariel and Sera can agree on one thing: this could be one very long night.

They have no idea just how right they are.

Only moments after the concert begins and the lights go down, thugs open fire on parents and schoolmates alike, in a plot against Ariel's father that quickly spins out of control. As the entire party is taken hostage, the girls are forced apart. Ariel escapes into the hidden tunnels in the family mansion, where she and Sera played as children. Only Sera, who forges an unlikely alliance with Hudson Winters, knows where her friend could be. As the industrial terrorist plot unravels and the death toll climbs, Ariel and Sera must recall the sisterhood that once sustained them as they try to save themselves and each other on the longest night of their lives.
Praise For The Girl in the Wall…
"Two high school seniors re-evaluate their failed friendship under dangerous circumstances. Benedis-Grab alternates between the two girls' perspectives; nearly every chapter ends with a cliffhanger, keeping tension high. The action and high stakes should keep readers engaged." --Publishers Weekly

"Told in alternating voices ... this compelling narrative includes a touch of romance. Readers will find this mystery satisfying." - School Library Journal

"Quickly paced and without a dull moment, Benedis-Grab manages to write a disturbing, yet entertaining, novel that will entrance future readers. Budding young romance adds an extra touch to the already thriving story line, and the will to survive makes this an inspiring read. I recommend The Girl in the Wall to readers addicted to fast-paced storytelling and action. Benedis-Grab's novel is a must-read." --Blogcritics.org

"In so many books, when the author tries to tell the story in alternating voices it can quickly become confusing. In The Girl in the Wall it works. Each girl has her own voice and you can easily distinguish them both. Once I started, I could hardly put them down. Daphne Benedis-Grab is definitely an author on my to-watch list." --Mel's Reading Blog

"Four stars! The Girl in the Wall was everything I hoped it would be and it sounds like Merit Press has a hit on their hands! You're definitely going to want to check out this action-packed thriller this Christmas." --Panda Reads blog

"This contemporary YA novel packs a punch. Using alternating perspectives - one of my favorite devices! - Benedis-Grab weaves a compelling, scary tale of one fateful night in the lives of two former best friends. Also, it's gratifying to see teenage girl characters kicking butt while also patching up their friendship." --Persephone Magazine

"I felt that this novel was compelling, with an interesting plot and characters I wanted to learn more about. Why are Ariel and Sera so estranged? Who is behind the hostage situation? Who will live, and who will die? I really enjoyed the story and will be on the lookout for more from Daphne Benedis-Grab and Merit Press!" --Christi, the Teen Librarian blog

"Daphne Benedis-Grab's debut YA novel is filled with suspense, danger, and murder as the clock ticks through a deadly night. From the very first chapter, I was hooked, and the story got more intense every page! It's an absolutely thrilling ride, and I look forward to Ms. Benedis-Grab's next foray into young adult literature!" --Jack and Jill Magazine

"This book gripped me from the beginning and I finished it in a day. The action was intense but well-paced, the characters were realistic and meaningful, the consequences were honest. If you're looking for a different YA book, try this one." --Book Sojourner

"The book: woah. It was a fast-paced emotional rollercoaster that really kept me guessing. The characters were seriously awesome. Packed with turns and tear-at-your-heart moments. I had high expectations since it's been on my wishlist for a time, and I was not disappointed." - Nightly Reading
Simon & Schuster Books for Young Readers, 9781440582820, 256pp.
Publication Date: October 3, 2014
About the Author
New York Times bestselling author Jacquelyn Mitchard has written many novels for adults, including Two If by Sea. She has also written young adult novels; children's books; a memoir, Mother Less Child; and a collection of essays, The Rest of Us: Dispatches from the Mother Ship. Her first novel, The Deep End of the Ocean, was the inaugural selection of the Oprah Winfrey Book Club, later adapted for a feature film starring and produced by Michelle Pfeiffer. Mitchard is the editor in chief and co-creator of Merit Press and a professor of fiction and creative nonfiction at Vermont College of Fine Arts in Montpelier. She lives on Cape Cod with her husband and their nine children.
or
Not Currently Available for Direct Purchase