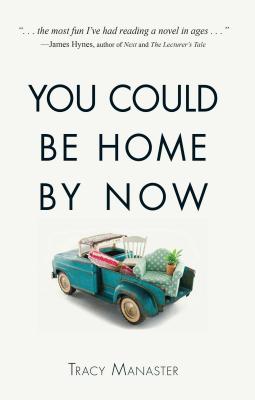 You Could Be Home By Now
Hardcover

* Individual store prices may vary.
Other Editions of This Title:
Paperback (9/4/2015)
Description
In her debut novel, Tracy Manaster approaches many social issues through the intelligent and entertaining story of two young professionals that begin working at a luxury retirement community to deal with their personal struggles.

An hour and a half outside Tucson, Arizona, The Commons is a luxury retirement community where no full-time resident under the age of fifty-five is permitted. Young professionals Seth and Alison Collier accept jobs there as a means of dealing (badly) with a recent loss.

When a struggling resident, underwater on her mortgage and unable to relocate due to the nation's ongoing housing crisis, is discovered to be raising her grandson in secret, the story--with the help of a well-meaning teenaged beauty blogger and a retiree with reasons of his own to seek the spotlight--goes viral.

You Could Be Home By Now explores the fallout for all involved, taking on the themes of grief and memory, aspiration and social class, self-deception, and the drive in all of us to find a place to belong.
Praise For You Could Be Home By Now…
"Manaster weaves...disparate tales of strife and grief eloquently, impressively depicting an adolescent girl and an aging man with equal fullness and depth. She also resists the urge for easy resolution...instead offering small amounts of emotional satisfaction that feel realistic and earned." --Publishers Weekly

"The setting is the only thing sleepy about Manaster's debut. Complex, interweaving stories tangle inside The Commons, a retirement community outside Tucson, Arizona.... A scintillating drama that's touching, funny and impossible to put down." --Kirkus Reviews

"Manaster's debut is an adventurous undertaking, both light and insightful. The wide range of characters...is well depicted and appealing. For fans of realistically written, flawed-human narratives--with a flair for fun." --Library Journal

"Poignant, funny debut.... A hoot that will touch your heart!" --People Magazine

"Each character has quirks that can be entertaining, saddening and harrowing.... Manaster weaves an entertaining tale of retirees and youthful souls who are living with circumstances that challenge their personal expectations of life.... The experiences of the characters in the story are...delightful." --The Deseret News

"Tracy Manaster's debut novel You Could Be Home by Now is a book for the New Year if ever there was one." --BookTrib

"Manaster creates vivid characters who come alive on the page, characters the reader can feel for and identify with even as they often seem to go over the edge.... In her retirement community there is humor and heartbreak, but most of all there is the poignancy of people, old and young, finding ways to go on living, and perhaps finding happiness." --Blogcritics.org/SeattlePI.com

"Some books you just don't want to end; Tracy Manaster's You Could Be Home By Now is one of those books. The story moves at a good clip, and Manaster is the rare author that finds the almost always elusive balance between plot and character. There's a sense of hope that these characters will find what they are looking for. It's just hard not to close this book with a bit of a sigh and a wish that we could be there when they do." --Pop Matters

"This book is so much more than readers could possibly anticipate. It explores the twisted emotions of loss and grief in depth, talks about the way we deceive ourselves in order to keep going, and touches on our innate need to belong somewhere, among other things. This novel is a fantastic read, and one that will stay with readers long after they've finished the final page." --San Francisco Book Review
Gallery Books, 9781440583124, 288pp.
Publication Date: December 5, 2014
About the Author
Tracy Manaster is a graduate of Wesleyan University and The Iowa Writers' Workshop. Her earliest ambition was to be a balloon seller in Central Park, followed by dreams of being a whitewater guide on the Green River, and then an archaeologist; now, she writes. Her family plays an elaborate, ritualized card game involving maracas, she will share the secret to a perfect blueberry pie with anyone who asks, and she spends way too much time trying to map a road trip that hits each National Park during its most beautiful season. She is the author of the novels You Could Be Home By Now and The Done Thing. Tracy lives in Portland, OR with her husband and twin daughters.
or
Not Currently Available for Direct Purchase