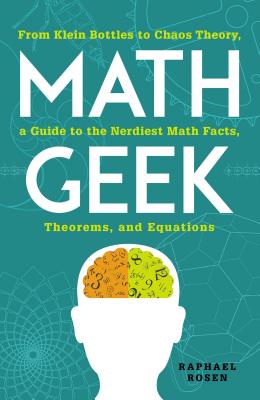 Math Geek (Paperback)
From Klein Bottles to Chaos Theory, a Guide to the Nerdiest Math Facts, Theorems, and Equations
Adams Media, 9781440583810, 256pp.
Publication Date: June 18, 2015
* Individual store prices may vary.
Description
The new "sine" of mathematical geekdom!
Do you dream about long division in your sleep? Does the thought of solving abstruse equations bring a smile to your face? Do you love celebrating pi every March? Then,
Math Geek
was made for you! With this guide, you'll learn even more about the power of numbers as you explore their brilliant nature in ways you've never imagined. From manhole covers to bubbles to subway maps, each page gives you a glimpse of the world through renowned mathematicians' eyes and reveals how their theorems and equations can be applied to nearly everything you encounter. Covering dozens of your favorite math topics, you'll find fascinating answers to questions like:
How are the waiting times for buses determined?
Why is Romanesco Broccoli so mesmerizing?
How do you divide a cake evenly?
Should you run or walk to avoid rain showers?
Filled with compelling mathematical explanations,
Math Geek
sheds light on the incredible world of numbers hidden deep within your day-to-day life.
About the Author
Raphael Rosen is a science writer and independent communications consultant who has written for NASA, the Wall Street Journal, Space.com, EARTH Magazine, Discover, Sky & Telescope, Scholastic Science World Classroom Magazine, the World Science Festival, and for other major publications and events. He also wrote a children's book about outer space. Whether the topic is neutrinos or NORAD, comets or catheters, he excels at translating dense jargon into easily understandable prose.
Praise For Math Geek: From Klein Bottles to Chaos Theory, a Guide to the Nerdiest Math Facts, Theorems, and Equations…
"Math Geek may be the first math book ever to explicitly welcome 'geeks' and 'nerds.' Rosen makes [math] enticing to beginners by writing in a relaxed conversational style, assuming little math knowledge, and relating the math to pop culture and ordinary events. [Readers] will be on their way to becoming the best kind of geek or nerd, the kind that our society needs." --The Los Angeles Review of Books

"Rosen provides a unique and interesting look at the beauty of mathematics without asking readers to delve into intimidating, mathematics-laden formulas." --National Council of Teachers of Mathematics