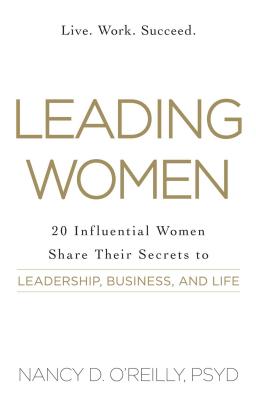 Leading Women
20 Influential Women Share Their Secrets to Leadership, Business, and Life
Paperback

* Individual store prices may vary.
Description
Now is the time...

Stop waiting around for the career--and life--that you deserve and start taking the reins! Leading Women shows you how to claim power and respect, conquer your internal barriers, and change the world by helping other women do the same. Featuring stories from twenty nationally acclaimed female leaders, this empowering guide offers real-life advice for breaking free of the predetermined roles in the business world and life. Powerful women such as New York Times bestselling author Marci Shimoff, advocacy leader Gloria Feldt, and Emmy-winning television host Aurea McGarry describe what it's like to go beyond their comfort zones, hold their own in a male-dominated environment, and take control of the situations that keep many women from achieving their goals. From corporate coach Lois Frankel's key ways to becoming a natural and necessary leader to bestselling author M. Bridget Cook-Burch's struggles after years of abuse, their insight will help you embrace your purpose, seize important opportunities, and overcome any obstacle that comes your way.

With the guidance of these influential, resourceful leaders, you'll maximize your personal power, exceed your business goals, and establish a network designed to support and celebrate your fellow women.

Contributors include: Kristin Andress, Cheryl Benton, Claire Damken Brown, PhD, M. Bridget Cook-Burch, Vivian Diller, PhD, Gloria Feldt, Lois P. Frankel, PhD, Joanna L. Krotz, Aurea McGarry, Lisa Mininni, Shirley Osbourne, Lois Phillips, PhD, Birute Regine, PhD, Linda Rendleman, Marcia Reynolds, PhD, Marci Shimoff, Rebecca Tinsley, Sandra Ford Walston, Michele Willens, and Janet Rose Wojtalik, EdD
Praise For Leading Women: 20 Influential Women Share Their Secrets to Leadership, Business, and Life…
"The women contributing to the book share amazing stories of overcoming obstacles in their personal and professional lives.... This book puts it all out on the table and gives women in leadership roles the upsides and the downsides of strides made by women in business today. And, it gives power to the notion that women can be successful leaders at all types of work." - SeattlePI.com
Adams Media, 9781440584176, 256pp.
Publication Date: December 5, 2014
About the Author
Nancy D. O'Reilly, PsyD, is an author of Leading Women: 20 Influential Women Share Their Secrets to Leadership, Business, and Life and urges women to connect to help each other create a better world. As a licensed psychologist, motivational speaker, and women's empowerment expert, O'Reilly helps women create the satisfying and purposeful lives they want to benefit themselves, their families, and their communities. She is the founder of Women Connect4Good, a foundation which empowers women to participate in social-profit activities and improve their careers, finances, health, and relationships.