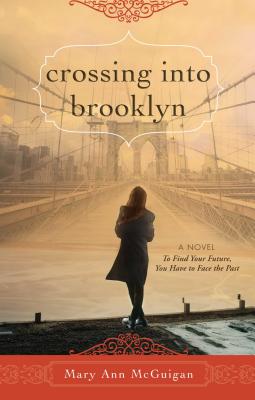 Crossing Into Brooklyn
Hardcover

* Individual store prices may vary.
Other Editions of This Title:
Paperback (10/30/2020)
Description
To Find Your Future, You Have to Face Your Past
She knows what her parents told her. Now she wants the truth.
    At sixteen, Morgan Lindstrum has the life that every other girl wants--at least from the outside. A privileged only child, she has everything she could ever want, except her parents' attention. A Princeton physicist and a high-powered executive, they barely have any time for each other, much less for Morgan.
    Then her beloved grandfather dies, depriving Morgan of the only stable figure in her life. If that's not enough, she suddenly finds out he was never her grandfather at all. To find out the truth about her family, Morgan makes her way to Brooklyn, where she meets Terence Mulvaney, the Irish immigrant father who her mother disowned. Morgan wants answers; but instead of just satisfying her curiosity, Mulvaney shows her the people in his condemned tenement building, who are suffering and have nowhere to go.
    He challenges her to help them, by tearing away the veil of shame, and showing her wealthy parents and her advantaged circle of friends a world they don't want to know exists. The temptation to walk away from this ugly reality, as her mother did, is strong. But if she does, can Morgan ever really leave behind what she learned when she crossed into Brooklyn?
Praise For Crossing Into Brooklyn…
"Brilliantly realistic. Readers who thirst for stories that contain all the grit, messiness, angst, and hope of humanity should pick this one up immediately. Perfect for readers who seek very realistic young adult novels, Crossing Into Brooklyn will break hearts...but leave just the right amount of hope to keep going." --YA Books Central

"Sixteen-year-old Morgan has lived a comfortable life, though her successful parents pay more attention to their careers than to her. When her adoring grandfather passes away, Morgan becomes suspicious that her mother has been keeping something from her, so she snoops until she discovers a mysterious letter. Good for fans of realistic fiction." --School Library Journal

"McGuigan expertly weaves in heavy topics such as privilege, poverty, and abuse.... Written in an accessible manner, this coming-of-age novel will appeal to teens who like characters with complex motivations." --VOYA Magazine

"The development of plot and characterization is striking. Morgan's thoughtful first-person-present narrative reveals a wealth of information about herself in subtly crafted sentences. McGuigan infuses Morgan's tale with poignant, authentic humor and emotion.... A beautifully written book." --Booklist

"This is a book that challenges you to remember that your perspective is only one piece of the puzzle.... I appreciated having a more honest look into how people grow together or grow apart. Crossing Into Brooklyn reminds us that everyone is on their own unique path. To choose to stand by someone on their path can be difficult, but when the conviction is strong enough, the bonds can remain." --TeenReads.com
Simon & Schuster Books for Young Readers, 9781440584633, 224pp.
Publication Date: June 1, 2015
About the Author
Author of three previous YA books, one a finalist for the National Book Award, Mary Ann McGuigan was an editor for many years, and also has experience teaching. Her essays and short stories have been published in literary journals and newspapers.
or
Not Currently Available for Direct Purchase